Marketing is vital for business growth. It helps businesses to advertise their product and services in an engaging way to generate demand and ensure profitability. There are various marketing mediums available that help organizations to fulfill their business objectives. But the effectiveness of email marketing is distinct from the rest. You may feel why?
Well, it is because today's marketers want to achieve more with minimum. They want to create brand awareness across the world in a personalized and targeted manner while staying on budget. Email Marketing fits perfectly as a solution to cover these business endeavours and this is the reason 9/10 marketers use email marketing to distribute their content for creating better brand appeal.
While many marketing trends and techniques come and go, email marketing remains one of the most popular mediums amongst marketers for a variety of good reasons.
1. Improves Sales
The world of B2B marketers is always filled with numerous challenges. The economic slowdown started after COVID-19 pandemic has further elevated their business complexities to a whole new level, where gaining new customers has really become a highly cumbersome task. However, effective usage of email marketing services with the right messaging strategy can assist marketers to solve their business challenges and help them meet their sales targets efficiently.
The importance of email marketing can be gauged from the fact that 59% of marketers say that email marketing is their biggest source of revenue.
Enterprises experienced up to a 760% increase in revenue after implementing an advanced email marketing strategy
59% of customers revealed that email campaigns influence their purchase decisions
Moreover, if you use email marketing to automate a significant part of your sales process then also it helps to boost sales by an impressive margin.
2. Measurable Outcomes 
Marketing has always been perceived as a 'Big Gamble' in the corporate world because the outcomes of various marketing endeavours are hard to evaluate. Especially money spent vs campaign effectiveness parameters at a granular level.
But this is not a reality anymore, especially after the advent of IT and the growing acceptance of Inbound Marketing techniques around the world.
Now, through email marketing, which is one of the most popular segments of Inbound Marketing, you can analyze, optimize, and check the performance of everything. There are various marketing tools (like Mailchimp, GMass, Mail Marketer, etc.) that can help you identify Key Performance Indicators (KPIs) to evaluate the effectiveness of marketing campaigns and their impact on your business growth.
You can check the delivery rate, bounce rate, unsubscribe rate, open rate, click-through rate, etc., to measure the outcomes of your email campaigns. Data helps in knowing which campaigns are working well, which ones are need to be modified and which ones are required to drop-off completely.
3. Stay Connected with Customers
In B2B world, it is very important that businesses must reach out to the right target audience at the right time. Email marketing gives this power to enterprises. You can connect with people in real-time and update them about various things. Right from new product/service launch, feature(s) update, new offer, etc. It helps in boosting brand awareness at the right time and assists in improving business outcomes. You can also conduct surveys and even run promotional campaigns to generate leads through webinar marketing promotions.
Moreover, successful businesses do not just nurture leads till the time they first convert into a customer but they nurture them way ahead. Researches suggest that when brands maintain a constant connection with their customers, the chances of them returning to their shop again rise sharply. Timely email campaigns can help your organization to maintain a good relationship with customers and also help you to increase the brand recall value significantly.
Once a prospect turns into a customer, sending them 'Thank You' mail, or personalized emails at the times of significant days (birthdays, anniversaries, festivals) or days of national importance or at the time of launching any new product/service or during any offer period not just helps create a better relationship with them but also increases your brand value.
However, there is a catch to this approach. If someone unsubscribes to your email list then sending emails further to that person may not just invite the wrath of that customer but also makes you eligible for a legal penalty. Moreover, sending too many emails in a very close interval can irritate your customers further and degrade the outcomes of your email marketing campaigns.
Therefore, use it, but in a smarter and pragmatic way to achieve the best outcomes.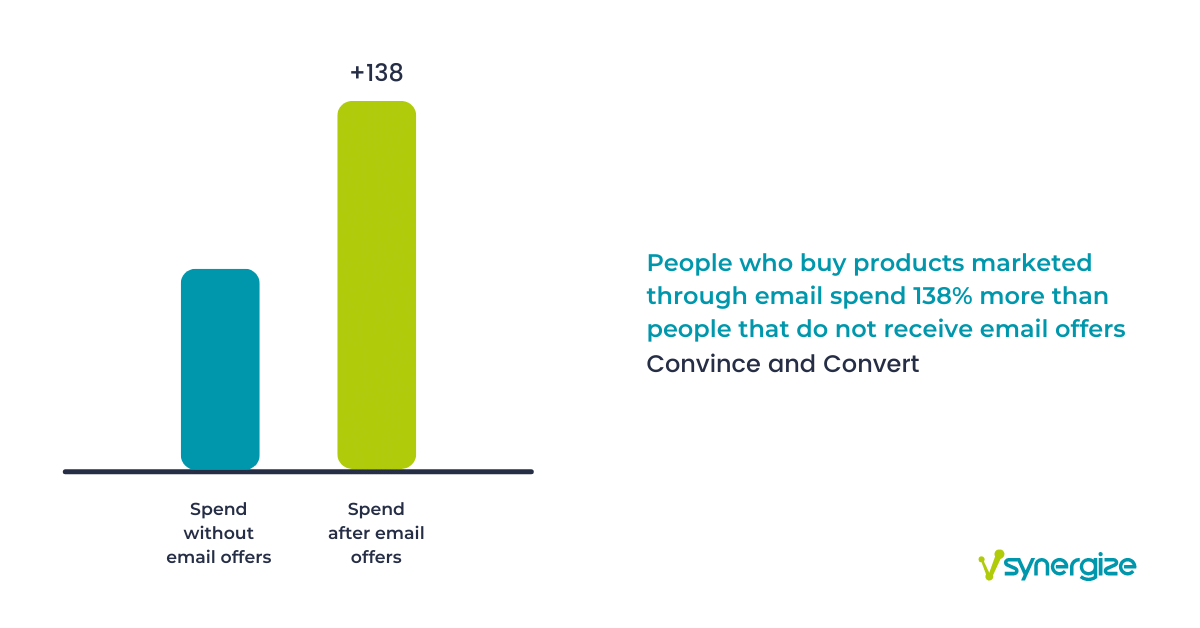 4. Generate More Website Traffic
Online marketing is centrally revolved around the 'website', a place that gives visitors all vital information about your products/services. But moving traffic towards it or gaining the attraction of visitors is a challenging task. Through your email marketing campaign, you can redirect enormous traffic towards your website and significantly boost your inbound leads. As reports suggest that there are close to 4 billion active email users around the world and with the advancement of technology and greater adaptability, this number is bound to increase further.
This gigantic number suggests what kind of boost you can provide to your brand visibility with a carefully crafted email campaign and pull the attention of your potential customers towards your website. However, to implement it successfully, you need to take care of a few things very precisely.
Use customized Call to Actions (CTAs) button to grab the attention
Provide incentive (What they will get after moving to your website)
Your emailer should be mobile compatible as most of the receivers might open it on a mobile device
Make the email scannable: Customers should get a clear understanding about the purpose of emailer without doing much efforts
Use 3-4 links, redirecting to different pages to your website
Create at least one link that redirects towards a landing page where you can collect data of prospective customers
Use personalized content to attract prospects
Make the emailer crisp and easy-to-understand
These things will also help you in boosting your SEO and subsequently help your website to get better rankings in search indexes.
5. Enable Targeted Marketing
The best part about availing email marketing service is that it enables you to execute marketing campaigns in a targeted way. When you know your goal, it becomes easy to achieve that target as all your efforts are directed towards that key goal. You can segment your B2B marketing campaigns depending upon various key factors like Location, Country, Age, Job Role, Industry, Revenue Size, etc., and craft a unique email marketing strategy to gain the attention of your target in a precise way.
In this approach as you know that you are marketing the product to only the people who actually need it, there is one point that you should remember.
List the challenges faced by your prospects, analyze how your solution will help them solve their hurdles and assist them to grow further, and then start building your marketing strategy. Once a strategy is drawn, prepare an email marketing calendar and target prospects with personalized messaging in an engaging manner. Analyze results and optimize them in the future to fill gaps.
You can create buyer persona and segment each customer based on their buying stage for more effective targeting
A prominent report suggests that email marketing campaigns are 40 times more effective than Facebook and Twitter combined in terms of acquiring new customers. This is the power of email marketing that promises gigantic brand reach if performed smartly.
6. Highly Cost-effective
Email marketing is considered as one of the most cost-effective marketing mediums.
Unlike traditional marketing where you need to spend on photo shoots, printing, models, tech gadgets, and other money-soaking and time-consuming stuff, email marketing is considered as a very economical and time-efficient medium.
Interestingly, it costs just a fraction of what is required for TV commercials or Print Ads in leading dailies. This is the reason enterprises all across the world prefer to market their services via email campaigns.
Reports reveal that 82% of marketers spend up to 20% of their total marketing budget on email marketing to meet business objectives.
Here, you just need a copywriter, graphic designer, and email marketing specialist to boost your brand all across the globe and create a brand appeal in a very targeted manner. Moreover, if you are new or do not have a long list of senders then you can save money on email marketing tools as well. As many email marketing tools provide thousands of free emails/month.
Also, if you do not want to hire an in-house email marketing team then outsourcing this service also can help you greatly. Usually, an email marketing service provider costs anywhere between $80 to $250 per month. Yes, definitely this cost depends upon the type of tool, size of the sender's list, and extra technical expenses like copywriting and all.
According to one study, it is found that for every $1 spent on email marketing, the average return on investment is $38.
Many people believe that email marketing is dead and thus often neglect the enormous power that it brings. Email marketing has always proven its effectiveness in contributing positively in the growth of countless enterprises across the globe.
From small businesses to medium-sized enterprises to multinational organizations, are extensively leveraging the potential of email marketing services and reaping great benefits.
The only thing you need to make the best from your email marketing endeavours is its implementation and the right strategy. The right email marketing agency or service provider can help you ace your game in this segment and uplift your sales targets to an impressive level.
If you have not yet started your email marketing journey or have not yet fully utilized it to its true potential then contact us. Our experts will help you deliver expected results through a carefully crafted, customized, and advanced email marketing strategy in a cost-effective and time-bound manner. VSynergize is a reputed name in the field of lead generation that also offers advanced and result-driven email marketing services.
Contact us at info@vsynergize.com to know more.
Akshay Divate
More and more companies are utilizing account-based marketing in their business, and this trend isn't showing any signs of stopping. And it's no wonder. One of the great benefits of account-based marketing is that
Akshit J
B2B marketing is becoming complex with each passing day. Customers' expectations are rising. Competitors are increasing. Profit margins are shrinking. Newer challenges are coming. Moreover, the global economy is plummeting. In such challenging times,