Content marketing is a spicy and hot trend when it comes to marketing products or services online. It is the cheapest and easiest way to engage your target audience. But nowadays people are easily sidetracked and search for alternatives. So, it is very important for you to produce extremely good and impressive content. Or else people won't shy away from clicking out of our website. Ooops!! Which we surely don't want. You can avoid this state of affairs by avoiding the 7 common Content Marketing mistakes that are given below. Keep reading the article to know how you can avoid these mistakes and keep people glued to your website.
1. Not Understanding Your Target Audience
Creating content is very easy but understanding what your target audience wants is important. Content Marketing is only a fruitful strategy when it is thought through and published effectively. The first thing that you should keep in mind while writing content is for whom you are writing and will it be attractive enough for the audience that you are writing for. 
You must consider your buyer's persona and make sure that your content represents their desires and goals astoundingly. Even bringing up their pain points and how your product or service could help them can create a powerful impact on your target audience. 
Researching your audience can help you to create the content that is appealing and relevant to them. Often it has been seen that people engage in blog posts that fancy their desires and needs. For this, you must get to the heart of your customers and spotlight your product or service as a saviour to their problem. 
2. Pitching For Your Product Or Service At Every Stage
The most common mistake that content marketers make is pitching about their product or service at every stage of their content. This makes their content mundane and boring. For your content to be a delightful piece of art you must make sure that it is interesting and is a perfect blend of infotainment. The best way to do this is to weave your content with value and information.
Pitching about your product or service is not wrong but doing it quite often is what creates the problem. You should be salesly in terms of content but not too much that it pisses off the reader. You should follow the format of discussing the problem of your customer and how your service would be useful to them. This way you will be able to keep the attention of your audience till the end of your blog.
3. Overlooking The Calls To Action
As we know the main purpose of content marketing is to influence the target customers to take action or take up your service. But it is not uncommon for content marketers to forget about the call of action and redirect their audience to it. By call of action here we mean that you should lead your prospect to the next step of your sales cycle. You must build pathways and connect different stories so as to build the momentum to take your customer ahead in the Sales Pipeline. 
For this it is essential to insert the click button that has landing pages at the end of your content. So, when the reader clicks on it they are redirected to your website and you can get the contact information. However, make sure that you are not too forceful or focused on just making your customers take action. 
4. Not Using Different Forms Of Content
If you are given a lengthy piece of content with loaded information. Do you think that you will be interested enough to read it? Of course not because it would be monotonous and boring. Then, think of yourself as the audience and try to make your content accordingly. The key to successful content marketing strategy is to use different forms of content like images, infographics and videos etc. 
According to the research, the majority of the top ranked articles are the ones that have at least one image. Yet, one big mistake that content marketers make is limiting the use of content. Content marketing shouldn't be seen as just simple text but it should be used creatively in various ways to create an enormous impact.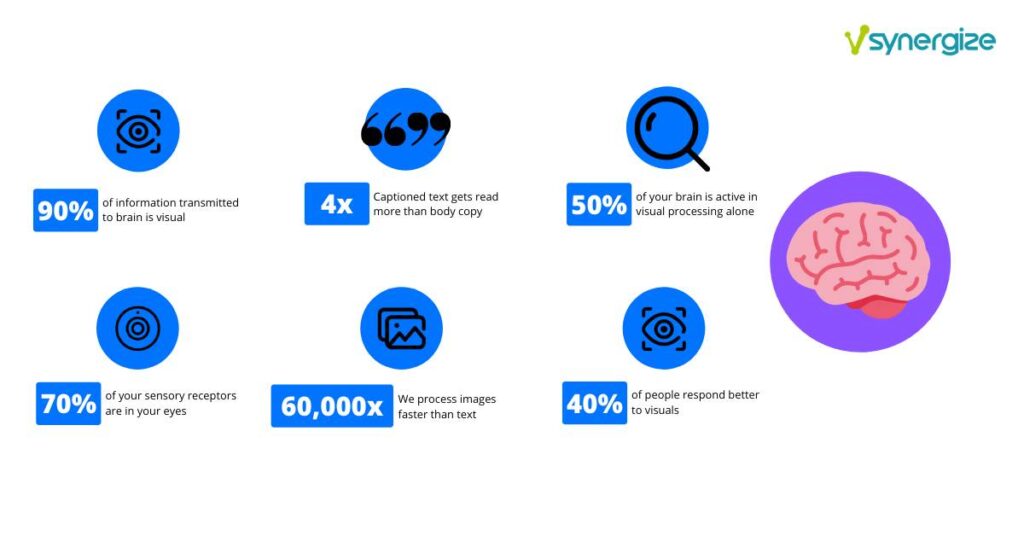 People love images and videos, in fact the human brain is 60,000 times faster in processing images than a plain text. Considering this fact you must make sure that you are incorporating images and required infographics. This can help you to stick your audience to your content till the end. 
5. Lacking Value Content
You must have heard the statement ,'Quality is better than quantity.' Same goes for social and content marketing. You should focus on the quality and the value that your content provides instead of focusing on the quantity. If your content provides little to no value then it is just a waste of time for your readers. With valuable content we mean that your content should have the following qualities: 
Uniqueness:

You can make your content standout by adding uniqueness to it. Having fresh content is what attracts the audience to it. As we have seen, many websites have the same old content and it becomes boring after a while. People tend to ignore the things that are similar so to outshine the other brands you must try to do something unique with your content. 

Convenient:

The other fact on which you should center on is making your content consumable and convenient. By, consumable we mean that the information that you are providing should be given in small pieces of chunks. This also enhances the readability and it becomes more convenient for the readers to gain knowledge. You should also make sure that the words you are using are understandable for the audience. If the reader has to reach out for the dictionary again and again then it is more likely that he will leave your page. So, try to use as easy and simple sentences as much as possible in your content.

Attractive:

As we know, 'First impression is the last impression'. Making your content attractive is a great way to capture the attention of people. You can do this by adding colorful images, infographics, quotes and small visuals. This can help to keep your audience engaged and interested in your content. 
6. Not Strategizing Content Marketing
'Work smarter not Harder.' Nowadays, content marketers are focused on what they want to do but not on their goals and strategy. This is a major blunder. While doing content marketing you should have a crystal clear plan with the objectives that you want to achieve. Without plan and analysis you can't get a lucid idea of what is working and what is not working for you. Creating practicable content marketing plan and goals will help you to: 
Get insight on what content is affluent and successful. 

See what type of content has not fetched great results. 

Comprehend what audiences you are reaching out to.  

Measure the advantage of content marketing for your business. 
Having determined goals will let you know what you have achieved and where you are lacking. A layout plan and acknowledging the metrics will allow you to improve the performance of your content marketing. So, before feeding your audiences with massive information and knowledge you need to understand the metrics and strategize accordingly. 
7. Not Seeing Content Marketing As A Two Way Channel
Producing content is good but neglecting the user generated content is awful. You must understand that just 'Creating content isn't enough'. You need to engage, respond and comment on the questions that your audiences are raising from time to time. Clearing the doubts and being answerable to people helps in building trust and credibility of your audience on your brand. 
It has been seen that if you do not reply to your prospects within a small frame of time they are most likely to go somewhere else. Thus, content marketers should keep in mind that content marketing is not just a one way channel. It is a two way channel and you need to interact with your audience and give them the information that they need as soon as possible.
Conclusion
Content marketing has a great potential. Earlier, content marketing was just seen as text but now it has become like a gin's lamp which can pretty much do everything. It is a great way to bring traffic to your website and get more leads. However, now it is not just limited to blogs, articles but to creative writing, images, infographics, videos and much more. With an expanding scope of content marketing, content marketers often focus more on creating content than analyzing. As a result of which they do not reach their expected goals. But you can dodge this by avoiding the Content marketing mistakes that are given above.
Akshay Divate
More and more companies are utilizing account-based marketing in their business, and this trend isn't showing any signs of stopping. And it's no wonder. One of the great benefits of account-based marketing is that
Akshit J
B2B marketing is becoming complex with each passing day. Customers' expectations are rising. Competitors are increasing. Profit margins are shrinking. Newer challenges are coming. Moreover, the global economy is plummeting. In such challenging times,