Getting leads is an important part of any B2B business but what after getting leads? Well, you must understand that a lead is interested in your service but not sure of taking it up. So, how can you push the lead ahead in the sales funnel? The answer is to carry out an impactful B2B lead nurturing campaign. There are many ways in which you can nurture your leads and secure more deals. However, you can create a more effective campaign by aligning your sales and marketing teams. At first, we will discuss what is lead nurturing and then steps to create a successful B2B lead nurturing campaign.
What is Lead nurturing?
Lead nurturing is the process of communicating with your potential clients at every stage of the sales cycle. This helps in building a connection with your prospects and increases trust. These days people are smart and they are constantly looking for solutions to their problems. You must communicate your service as a solution to their problems.
What are Lead nurturing campaigns?
Lead nurturing campaigns are the strategies created to craft content that influences the prospects and aids in maintaining a healthy relationship with them. B2B Marketers understand how important it is to deliver personalized content these days. Through A/B testing lead nurturing campaigns you can send personalized content and engage with prospects more effectively. Thus, increase the conversion rate of sales leads and get better ROI.
7 Steps To Create A Successful Lead Nurturing Campaign
To create a successful B2B lead nurturing campaign you must keep some core elements in mind that we have mentioned below:
1. Set Targets for your Lead Nurturing Campaign
When you are going to conduct a full-blown lead nurturing campaign it is vital that you set goals that you want to achieve. The main idea of lead nurturing is to keep the prospects interested and push them ahead in the sales funnel. Nonetheless, it can help you to serve other purposes as well such as:
Get new Leads
Re-Engage the cold leads
Build credibility
Convert leads to sales
Lead nurturing can help to increase the conversion rate by reinforcing your brand message. Apart from lead conversion it also helps to create brand awareness and your audience reach.
2. Define the Ideal Customer Profile or Buyer Personas
First, you must create an Ideal Customer Profile by defining the key attributes that they should have. This will ensure that you are targeting and investing your time in the right prospects. You should identify the buyer's personas or the key decision-makers of an organization that you can communicate with.
You can even create the Ideal Customer Profile by simply looking at your existing customer base. The key attributes that they have and whom you have good experience with. Identifying the ICP helps you to target and put efforts in the right direction.
3. Understand your Buyer's Journey
One of the most important aspects that you must understand before carrying out your lead nurturing campaign is the buyer's journey. It is vital to create lead nurturing strategies based on the phases of the buyer journey. The different phases of the buyer's journey are mentioned below:
Awareness Phase: This is the phase in which the prospect just gets to know about your service and what you do. You can foster the interest of your leads by posting informative and educational blogs.
Consideration Phase: In this phase, the lead is considering your service and knows about it completely. You can invite the leads to webinars, workshops and tell them in detail about your service and give a demo, etc.
Decision Phase: This is the final phase in which the customer is on the verge of making a decision. In this final step, you can share success stories of your customers, reviews, and testimonials, etc. It will make the prospects believe that they are making the right decision.
4. Create a single Brand message
Nowadays, there is so much competition in the industry and everyone wants to stand out. In this race of highlighting themselves, businesses do a lot more. However, instead of doing hard work, you must do smart work that gives you more effective results.
To create a high impact on your target audience you must come up with a singular brand message. This will ensure that your prospects remember your brand even when they switch from one communication channel to another.
While crafting your brand message you must make sure that you are considering the client's pain points. You must focus on the problem of the clients instead of focusing on your service. Taking into account the client's point of view makes them believe that you actually care.
5. Define the Content to include in your lead nurturing campaign
Lead nurturing can be confusing but as you must have heard Content is King. Creating impressive, informative, and valuable content is the key. This not only boosts your brand awareness but makes your audience stick around.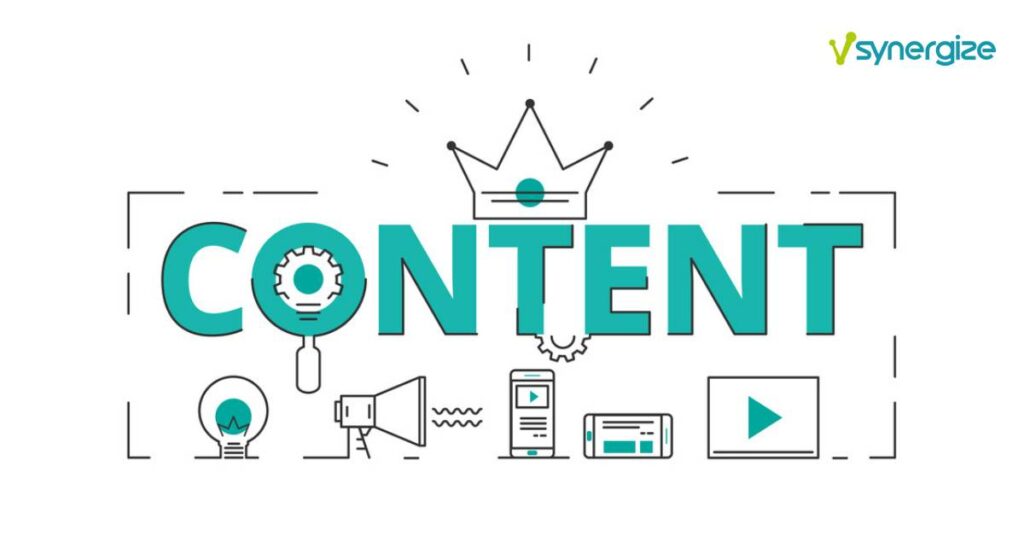 You can create different types of content such as images. Infographics, and surveys, etc this will keep things spiced up. Try to personalize and customize your content according to your potential buyers.
You can create different versions of your content based on the prospect's stage in the buying journey. This will aid in giving them a more personalized and better experience.
6. Send lead nurturing emails
Email marketing is a proven effective marketing strategy used by B2B marketers. According to the report by DMA, "For every $1 you spend on email marketing you can expect an average return of $42".
You can send emails to your leads based on their previous actions and behavior. Sending emails will also help you to know whether the lead is progressing to the next stage or not.
For example, a lead score is 20, you can send an email invite to it for downloading a whitepaper. If the lead downloads whitepaper it means it is qualified further. But if a lead doesn't download the whitepaper it means they are pushed back to the previous stage of consideration.
Sending nicely crafted emails with quality information helps to maintain the existing customers and keeps new leads interested.
7. Measure Progress and Check Analytics regularly
To improve you must measure the success of your campaign and for that, you need to do an in-depth analysis. You must deploy analytics tools to measure the effectiveness of your campaigns. This will let you know how much of your targeted goals you have achieved.
You can identify the loopholes in your campaign and make changes accordingly. Having a regular check on analytics will aid you in measuring your progress. In this way, you can also know what strategies are not working well and you can draw them out of your campaign.
To Sum Up…
Lead nurturing can be a monotonous and time-consuming process. But you can achieve a higher conversion rate by creating an effective B2B lead nurturing campaign. There are many other objectives that you can accomplish with it such as creating brand awareness, and getting new leads, etc. You must see where the lead is in their buying journey. For lead nurturing it is essential that you deliver personalized and customized content. This will help you to establish credibility and push leads ahead in the sales funnel.
Akshay Divate
More and more companies are utilizing account-based marketing in their business, and this trend isn't showing any signs of stopping. And it's no wonder. One of the great benefits of account-based marketing is that
Akshit J
B2B marketing is becoming complex with each passing day. Customers' expectations are rising. Competitors are increasing. Profit margins are shrinking. Newer challenges are coming. Moreover, the global economy is plummeting. In such challenging times,