Data is an essential component of every business and is used to map out marketing, sales, and customer service strategies. It is at the center of every decision-maker to promote the development and efficiency of the organizations. Data enables decision-makers to make exact decisions as per the facts and figures rather than considerations.
Leaders in business mostly make use of data wrangling to clean, lead, and qualify data before making any decision. Data wrangling comprises six steps including Finding, Forming, Cleaning, Enriching, Qualifying, and Sharing. 
Data Enrichment also is called data appending which is referred to as the techniques and procedures that increase, purify, and improve raw data. For salespeople, it sets out the internal and external data simultaneously to create a stronger profile of their likely and genuine customers.
This process of Data Enrichment makes it more easy and useful for users by adding value to it. It encourages brands to understand their customer's needs and get huge acumen in their stories.
Let's understand why Data Enrichment is a must:
Cleaning useless, old, irrelevant data out of your data set;
Developing your current information, addressing them to be more specific and precise;
Receiving more resources for content, worth, and accurate prospect interaction;
Upgrading your targeting efforts and goal-setting.
A good working Data Enrichment method is the main element to get the success of a brand functioning in the modern digital world. For flooding profits to your brand, it needs to be workable, relevant, and easy to know, exactly what it grants. 
As you utilize a data enrichment plan, it is crucial to understand that businesses get profits in various ways. However, select the exact data enrichment strategy that meets your business demands and goals.
Advantages of Data Enrichment Solution
Cost savings

It promotes customer relationships

Maximizes customer nurturing

Promotes successful targeted marketing

Get more excellent sales 

Abolish unnecessary data 

 Enhances customer experience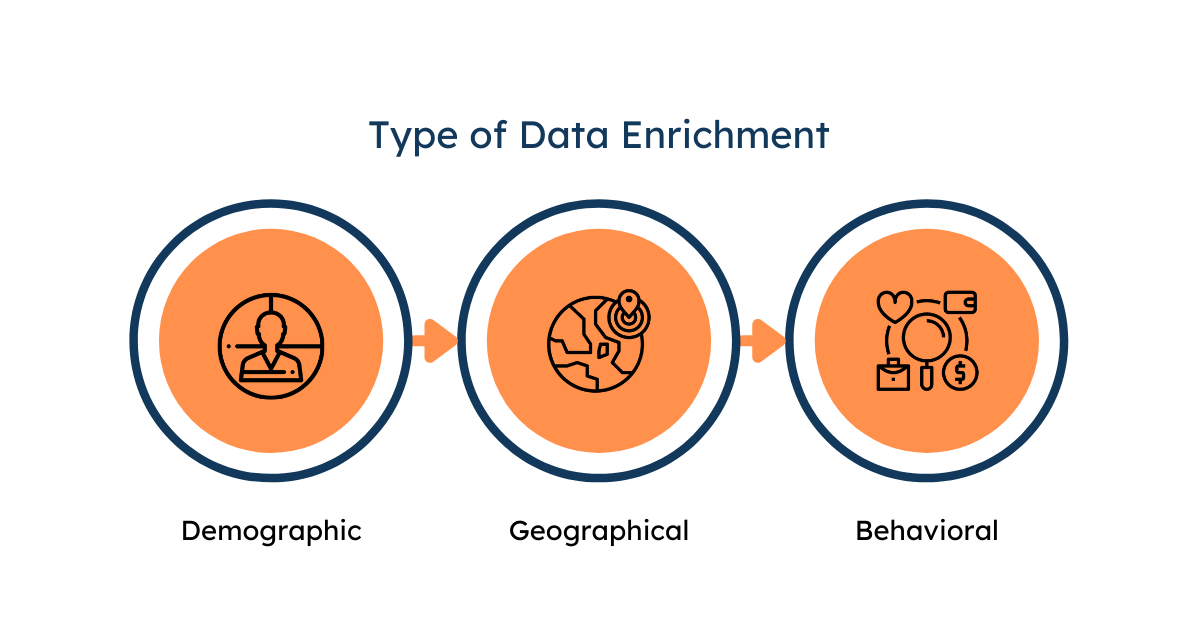 The most important reason for data enrichment is that it allows businesses to increase both the worth and precision of their datasets. High-quality and particular data are very significant if organizations need to draw out remarkable outcomes from it.
Enriching a deficient database with data collected from the appropriate platforms can highly increase the value. It not only benefits the business owners but also improves its shareability.
When brands recognize that they have a steady fast method of enriching data, they can reduce the amount of data collection they request to gear. Also, by collecting the enriched data from customers using the signup method for a newsletter or website, brands can expect their consumers for more crisp data.
A clean database can be enriched with initiative leads for quality prospecting, which maps the way for greater conversion and hence higher ROI.
Check out some of the key actions availing from Data Enrichment are:
ABM strategies where you can target accurate accounts.

Perfecting segmentation by perfecting data.

Gathering data that really works for decision-makers.

Generating targeted marketing strategies.

Delivering customer personalization.

Improving customer services.
The instant growth of the data enrichment platform currently shows how businesses are starting to adapt to the potential of  Data Enrichment. Data is a vital resource for modern businesses. Anything that can in the future increase its worth and usability is worth exploring. It does exactly that.
Whatever your designation is, just keep in mind that if you are working in sales in any way, your practice will definitely become a highly data-driven skill for you. The core is to ensure you get access to the right information when you need it. 
It is the method to clarify and manage the work of your sales reps as they utilize less time in splitting up your target audience and regulating the greatest prospects, and concentrate highly on engaging the prospects.
By getting thriving data enrichment services, you can lower the barrier to your web form conversions, create hyper-targeted customer segments, and/or make game-changing alterations in your account scoring methods and the selling applications as well become better at predicting and forecasting. 
Getting the best benefits of  Data Enrichment will require some initial effort. But once up and running, you will definitely reap the fruits of having access to the rich, real-time company directly.
With VSynergize users can quickly blend disparate datasets from different source systems and assess the quality of the information being enriched. Enrich your data using VSynergize so that you can boost the value of your business data.
Willing to take your data to the next level? Get a free consultation from the solution architect and request a free demo to know how we can help you with your Data Enrichment plans. Or connect us directly on  +1-732-481-9424 or email at info@vsynergize.com
Akshay Divate
More and more companies are utilizing account-based marketing in their business, and this trend isn't showing any signs of stopping. And it's no wonder. One of the great benefits of account-based marketing is that
Akshit J
B2B marketing is becoming complex with each passing day. Customers' expectations are rising. Competitors are increasing. Profit margins are shrinking. Newer challenges are coming. Moreover, the global economy is plummeting. In such challenging times,