The optimum goal of the B2B marketing strategy is to make the consumer's journey and the demand generation funnel smooth. Knowing what exactly is B2B Demand Generation and how do you form a funnel that turns the greatest prospects into paying customers?
The Demand Generation process is divided into various marketing funnel stages based on where your intended audience is, aiming to convert them into paying customers. Hence, various Demand Generation strategies are waged to carry out the demand process. These strategies comprise inbound marketing, lead generation, lead nurturing, cross-selling, and upselling, etc.
Demand Generation in short is any marketing that makes use of technology to create awareness and build interest in your offerings. It's all about adding value to the consumers and assuring that you generate concern and intent about your offerings and brand.
Generating demand is not an automatic process or an overnight process. It requires effort and steadiness. While the B2B Demand Generation process differs from person to person and business to business, the basis can be similar. 
When planning about creating the greatest b2b marketing strategy, considering some of the great B2B Demand Generation campaigns will aid you to formulate a plan that works best for you. 
Here are some classic Demand Generation strategies that will work.
Survey

Webinars

Create a Buyer Persona

Use Personalized Content

Email Marketing

Video Marketing

Influencer Marketing

Events & Conferences

Press Release

LinkedIn Polls

Give Away

Lead Nurturing Sequence

Establish smart goals

Use SEO / SEM Strategies 

Implement Inbound Marketing Tactics

Guest Posting

Social Media Marketing

Interactive Content

Measuring and Optimization

Ad Campaign
Remember B2B Demand Generation is a combined effort of marketing and sales organizations. To effortlessly carry out the B2B Demand Generation strategy, demand generation managers must open the doors for collaboration between marketing and sales teams. The ultimate goal here is to target the appropriate prospects, as well as bring them along the consumer journey.
Developing a B2B Demand Generation plan grants clarity on:
Account Mapping

Distribution

Segmentation

Messaging

Journey Mapping

Behavioral Scoring

Lookalike modeling

Funnel measurement
There should be an end to end Demand Generation tactics implemented using the entire length of your sales and marketing funnel and not just concentrating on adding new prospects at the top of the funnel. According to the research – 78% of marketers say their demand generation budget will grow or remain the same in 2021, but will not drop off.
At VSynergize our teams are experts in the industry, actively engaging in ways to drive return on investment (ROI) for our clients. We are well aware of the fact that not every strategy works, but try to actively track the success measure, efforts implemented and find creative, unique solutions for the ever-growing business. VSynergize helps you drive unique strategies and uplift your business demand with tried-and-true methods that are germane to the changing landscape of the world.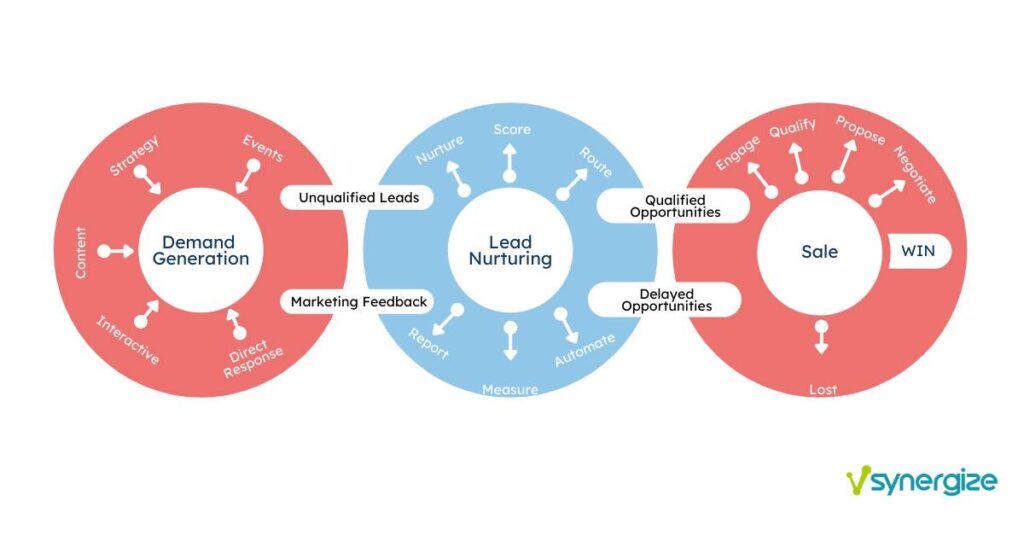 The advantage of concentrating on-demand generation is the higher quality of the leads you are nurturing through the funnel.  By focusing your efforts on-demand generation, you're working to create excitement about your products and services. This approach lets your audience know and trust you as a brand, rather than solely a product or a service you offer.
Demand Generation is the greatest method and you need to make sure your marketing strategies integrate and align with it. Different examples work for different stages of the funnel. And, your demand generation funnel should be built accordingly to bring results. 
Try analyzing yourself now how various organizations try to generate their business demand for their products and services. Still, confused with how to start with your demand generation approach?. Start with VSynergize, Request your free demo now!
Also, are you looking for ways to drive demand generation with your customer success campaigns? VSynergize is full-fledged to help you. Reach us directly on +1-732-481-9424 or email at info@vsynergize.com
Akshay Divate
More and more companies are utilizing account-based marketing in their business, and this trend isn't showing any signs of stopping. And it's no wonder. One of the great benefits of account-based marketing is that
Akshit J
B2B marketing is becoming complex with each passing day. Customers' expectations are rising. Competitors are increasing. Profit margins are shrinking. Newer challenges are coming. Moreover, the global economy is plummeting. In such challenging times,