COVID-19 has changed our lives drastically and is continuing to do so. It is evident that it has not only destroyed the lives of millions but has made an enormous impact on the economic sector. For B2B organizations it has become more important than ever to take care of their customers and prioritize them. Not only this, the way B2B sales lead generation was carried out before the pandemic hit was different. We believe that it is a turning point in the way B2B companies used to do lead generation. There are two main themes that have emerged during the COVID-19 that are Digital and remote. In this article, we will discuss them and how B2B SaaS businesses can implement them.
Digital is the new Hero for Lead Generation
During the pandemic times, the digital platform has made a significant impression. It has become the center of everything and the importance of digital channels has increased 2X times. The B2B lead generation solution providers have started to focus on digital platforms more than before. Below we have given some ways in which you can improve your buyer's digital experience:
Improve and update the information: These days people are sitting in their house and looking for the best possible solutions. You should make sure that all the information and facts are easily accessible on your website. The compare and purchase options are readily available. So, that people take up or receive your service without any complication and live support from sales representatives.
Fix problems on websites and mobile apps: You must fix any technical issues that might arrive on your website or mobile apps rapidly. This will ensure better delivery to your customers and increase their loyalty to your brand.
Robust Support system: As now everything is operating remotely, make sure that your customer support team is available 24/7. This way you can be there for your customers whenever they need it.
Measure your progress: Analysing and seeing if your current digital tactics are working for you is very important. This will help you to find out the loopholes and strategize accordingly.
It has been seen that there is a significant shift in digital interactions since 2019. Customers' behavior has changed and they have started researching about the products before buying them. A sharp increase is marked in the digitally enabled sales interaction after the hit of COVID-19. Now, buyers' preference for self-service, supplier's mobile apps has doubled. This shows that the trend of the self-service channel has become more prominent over the years.
If you think giving multiple self-service options to your customers is enough then you are wrong. Buyers are no longer willing to compromise and just want the best for themselves.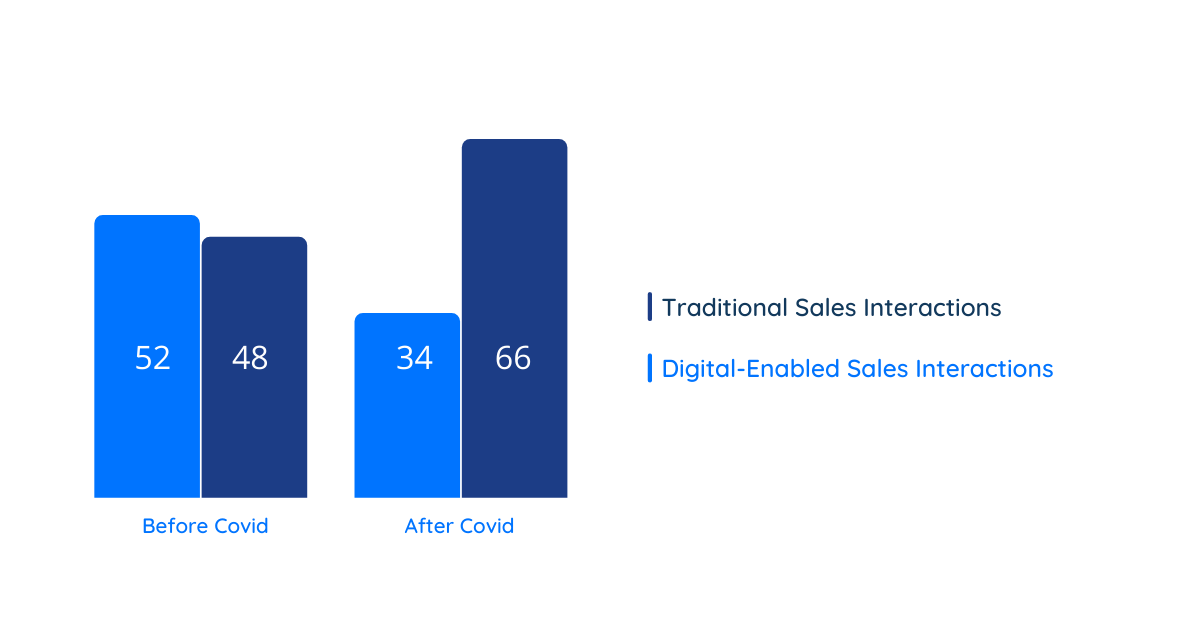 The survey results of 2019 have shown that the B2B purchasers are more likely to choose services that have outstanding digital experiences. According to the reports, 'The suppliers who provide good digital experiences are about 70% more likely to be chosen over the ones who provide poor experiences.'
By outstanding digital experience, we mean delivering your buyers the three most important things: Speed, transparency, and expertise. Live chat is also a good option that can help you to provide all of these. According to the survey, '33% of buyers rated the option of live chat as one of the top requirements for a best in class supplier.'
Another way you can promote better customer experiences is through addressing the pain points and frustrations of your customers. The three most cited frustrating issues by the decision-makers are as follows:
36% say that the length of the ordering process is too long.
33% said that there are often too many technical issues.
34% find difficulty in finding products.
Other common problems include complicated websites, lack of information, technical support, and difficulty in processing payments. You can encourage loyalty and raise your business by avoiding these mistakes and providing good customer experiences.
Remote Sales Interaction for Lead Generation  
COVID- 19 has paused all of us at one place. Now, we need to stay at home and work remotely. Due to this, 90% of sales have moved to VCs (Video Conference), a mobile/ web sales model. Some of the ways in which you can improve your remote sales interactions are as follows:
Use Digital channels effectively: You can boost your internal sales and service capability by using digital platforms. Converting the chatbots into live chats with representatives is a good way. You can do customer meetings as well using various digital tools like Skype, Zoom, WebEx, etc. The representatives can be trained for using these tools to deal with customer queries.
Prioritize your pipeline and guide your representatives: See the recent online searches for leads, and prioritize the customers who have expressed interest. You can host Customer- Relationship Management (CRM) sessions for representatives so they can follow up on the leads properly. The digital marketing messages can be personalized and the customers should be kept at the center of them. The senior executives can put up outstanding proposals and do account reviews to help the representatives.
Enhance your customer experience: You can conduct virtual product demonstrations and do phone follow-ups from representatives. Scheduling video conferences, virtual launches, or information-sharing sessions with your customers can enhance their experience. You can also tailor the email content according to your customer's needs and pain points.
Fix the self-service issues: You must update the online information, and make the searching of information easier. Try to reduce the information that customers have to provide to get info. Make sure that the number of steps that buyers have to take is relevant and not unnecessary. The buyer's journey to click-to-order or click-to-request should be shorter and quick.
This pandemic time has forced people to stay at home and work remotely. B2B marketers have taken this change positively for lead generation and turned to digital platforms. According to the reports, Around 90% of B2B SaaS companies have transitioned to a virtual lead generation sales model during COVID-19.
The effectiveness of remote working is however being debated. While some of the B2B sellers think that it is effective and others think it is less effective. The US and India have rated remote working highest in effectiveness, at 60 and 68% respectively.
The Bottom Line…
COVID-19 has caused a massive shift in how the B2B SaaS companies do lead generation. They are adjusting to this pandemic crisis and have started working remotely. Not only this, the sales leaders have now shifted their focus to digital platforms. They are discovering ways through which they can deploy their representatives effectively. Apart from that, it has become important to make digital interactions more accessible and error-free. Traditional ways of face-to-face interactions have now transitioned to Video conferencing, webinars, and live chats. B2B lead generation for SaaS companies in the age off COVID-19 has transformed completely.
Akshay Divate
More and more companies are utilizing account-based marketing in their business, and this trend isn't showing any signs of stopping. And it's no wonder. One of the great benefits of account-based marketing is that
Akshit J
B2B marketing is becoming complex with each passing day. Customers' expectations are rising. Competitors are increasing. Profit margins are shrinking. Newer challenges are coming. Moreover, the global economy is plummeting. In such challenging times,