B2B Lead Generation idea is all about attracting audiences and turning them into leads who are interested in your offerings. Here you need to take a set of actions that convert an organic visitor into someone who might be interested in becoming your consumer. Forming high-quality content and building automatic processes that turn your visitors into leads can be a complete game-changer for your business.
Also, you will find some marketing campaigns complex, making use of various methods and platforms to deliver your actual messages. So it's not always important to use complex methods wherein you can see success with a simple message and CTA's —as long as you plan and implement it suitably.
Remember you'll need to put effort as leads don't just magically come in a company's CRM. You will find a lot of methods and mediums that your sales and marketing professionals can attract potential consumers, with some practices that without a doubt work better than others. 
When it comes to B2B Lead Generating, there are typically three main types: Outbound Marketing, Inbound Marketing, and Marketing Campaigns.
Lead Generation is more focused on the effort toward familiarizing likely customers with a business value proposition having the end goal of conversion. 
Let's confer about the common pain points of B2B Lead Generation
While the lead generation tool is highly important for every business, it's by no means an easy feat. In fact, there are a lot of things that are to be considered to get potential customers into the sales funnel. Yet when considered and addressed when planning and building a lead generation strategy, you can surely come out on top.
Data Quality:
A good way of forming content that will get leads is by analyzing your database to seek trends and attributes. Still, you need to concentrate on keeping your database accurate and clean.
Lead Quality:
If your data doesn't show any interest in buying or knowing more about your offerings will never be counted as the lead? Many sales reps say their greatest obstacle when it comes to lead generation tactics and tools are the quality of the lead. Web traffic is good, but it doesn't mean at all if they don't convert into MQLs or SQLs.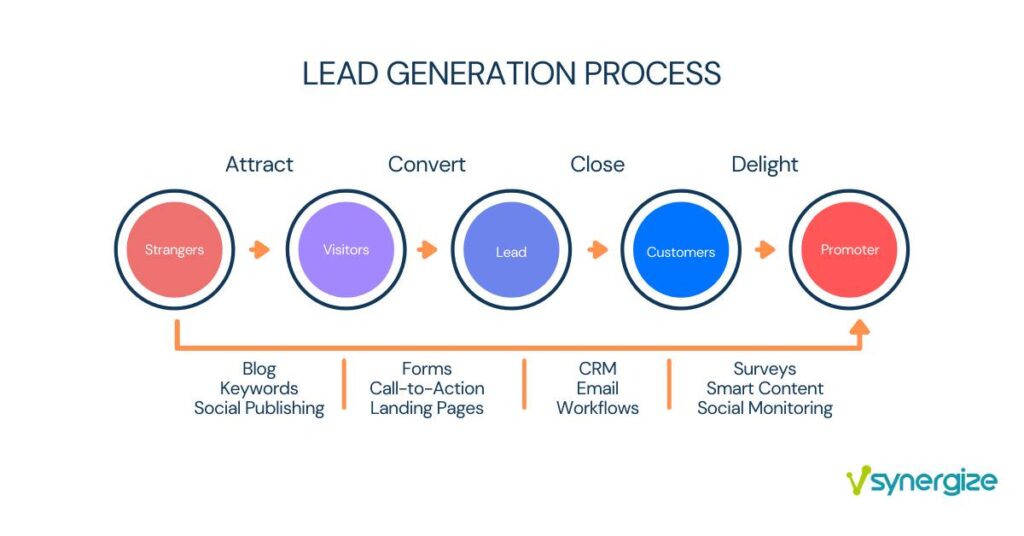 Measuring Lead Generation success:
Indicators you can look at to measure lead generation success are CTRs, conversion rate, time to conversion, leads per channel, etc.
Remember every marketing campaign begins with a mind-blowing plan! Once you have outlined yours, here are some other helpful tips you can implement in your lead-generating campaign.
Check out 5 best tips for creating Lead Generation Marketing Campaigns:
1. Create Buyer Personas
Before promoting your offerings to a fresh audience, you need to find out your exact target audience. To do this, it's necessary to form buyer personas.
It means a buyer's persona is a semi-fictional identification of your ideal buyer based on data, interviews, and some sort of guesses. It's something that sounds like it's talking about a specific person.
A lot of people must be planning campaigns or tactics, so it's very crucial that everyone in your company knows who the messaging is directed at and what it should be highlighting. Buyer personas make it significant for everyone to be on the same page and know what your ideal consumer priorities are.
2. Define Your Offer
Defining what you offer completely depends upon what type of content your campaign will cover and that should be something unique. Personalizing your offer works better.
Research about your competitors, what they are offering in their campaigns? It can be a great way of brainstorming something unique for your buyer persona.
Here are some examples you can promote:
Demos

Sale Discounts

Downloadable Content

Coupons

Gift Cards

Upcoming events
3. Create a Landing Page
The landing page is the hub of your marketing campaign. This is something where your visitor will learn about offers and as per their interest. Landing pages also make it easy for visitors to submit their details—which certainly is a  part of lead generation tactics.
A landing page is simple, but they require a careful, ruminative approach to design. Some important elements that must be included in your Landing pages are:
A superb headline.

Easy-to-understand information regarding the offer.

Quality Content that conveys the offer's benefits

A short contact form with necessary fields.

Call to Action
Once you have created your landing page, you will want to drive traffic to it. You can add the link of your landing page on social media, emails, messages, etc to promote your landing page.
4. Appeal to Your Audience's Emotions
Drawing an emotional response is the ultimate way to form a powerful marketing campaign, but it's not that easy. If you can do this, your campaign engagement and overall success will undoubtedly enhance.
One great way to obtain an emotional response is to draft such amazing content that moves them. 
If you are confused with your approach you can always go for A/B testing which will help you know more about your campaigns.
5. Don't Neglect Lead Nurturing Opportunities
Once you are ready with your campaigns and the leads start rolling in, it's time to nurture them. Ignoring Lead Nurturing is the worst decision you can make when running a marketing campaign.
Talking about digital marketing, email marketing approaches have been proven to have the best ROI. Also, the follow-up emails need to be drafted so that you're building trust and strengthening your relationship with the leads.
And this is all Lead Nurturing is all about, if you can get these new users to engage with your content, they're more potential to become customers.
Remember, B2B Lead Generation ideas integrate – Patience, Research, and Empathy. Find out where your audience stands and what would be the ultimate strategy and plan that you can use to reach them and offer the best solutions.
Learn more about your B2B audience and take note of how they react to your Lead Generation approaches & business. Test and analyze what works and optimize your strategies to obtain better results. For more assistance on B2B Lead Generation & Demand Generation, reach us now at  +1-732-481-9424 or email at info@vsynergize.com
Akshay Divate
More and more companies are utilizing account-based marketing in their business, and this trend isn't showing any signs of stopping. And it's no wonder. One of the great benefits of account-based marketing is that
Akshit J
B2B marketing is becoming complex with each passing day. Customers' expectations are rising. Competitors are increasing. Profit margins are shrinking. Newer challenges are coming. Moreover, the global economy is plummeting. In such challenging times,