BANT is a method of lead qualification that looks at a prospect's Budget, Authority, Need and Timeline. By asking questions related to each of these criteria, you can get a good sense of whether or not a prospect is likely to be a good fit for your products or services.
This will help you find those leads that fit your Ideal Customer Profile (ICP).
Let's look at those questions and other things you need to know to use BANT effectively.
The 12 killer questions to help you qualify prospects
This list of questions will help you make the BANT method work for you. With a straightforward approach, you can qualify every lead quickly and move on to the sale or the next lead.
 What is the budget for this project?
Who is the decision maker for this purchase?
What are the requirements for this project?
When does this project need to be completed?
What are the risks associated with this project?
What are the potential roadblocks to this project's success?
What is the expected ROI for this project?
How did you hear about our company?
Why are you considering our products or services?
What are your thoughts on our products or services?
How likely are you to purchase our products or services?
Is there anything else I can do for you?
How to use the information to find ICP prospects
Once you have asked these questions, you can use the answers to help you identify prospects who are likely to be a good fit for your products or services. If a prospect meets all of the criteria for being an ICP, then they should be added to your pool of potential customers.
Remember, BANT stands for: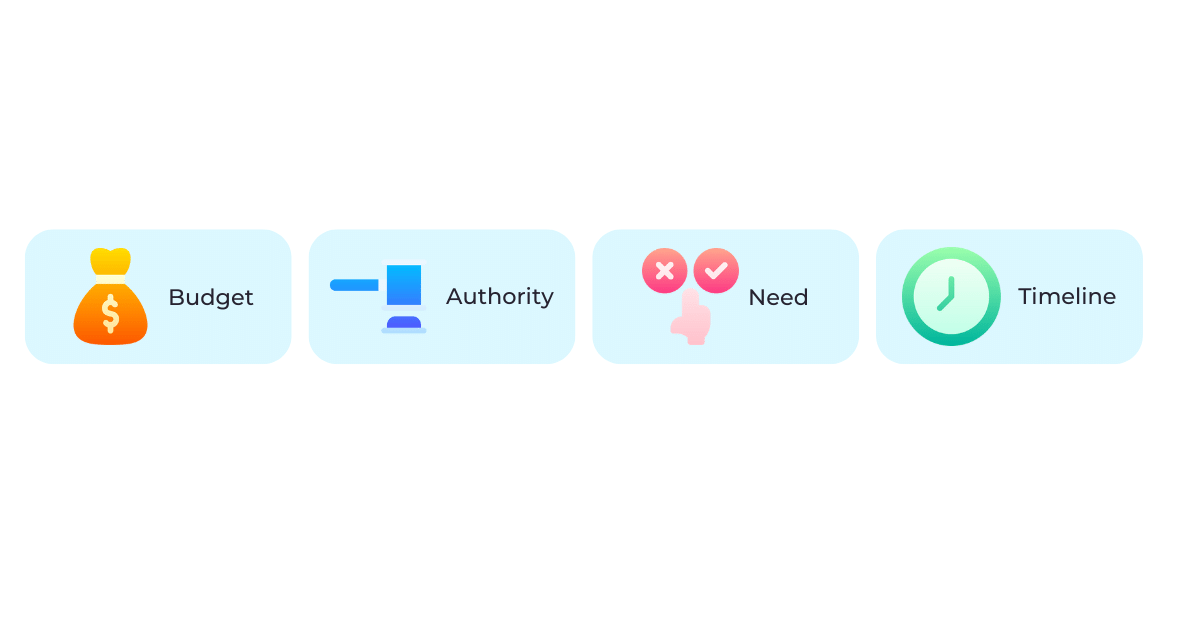 B-udget: Can they afford your product or services? Very often, leads will dance around these questions, either because they don't want you to know how much you can charge them or they haven't actually set a clear budget for the purchase. Overcoming this objection can take some finesse, but it's worth it. If they have a massive budget compared to your prices, you can offer extra services. If they're budget is too small, you can talk about finding more money or modifying their requests.
Authority: Are they empowered to make a purchase? Are you wasting your time talking to a gatekeeper who will only forward your information to someone else? If you're not speaking directly to the right person, the sales process can drag on a long time. Make it clear that you want the decision-maker part of the conversation to save everyone a lot of time and prudential misunderstanding.
N-eed: Does the lead need your product or service? In this case, BANT falls short a bit. In many cases, it's up to the salesperson or the lead generator to help create the need. With many modern products that are way out in front of the market, it's necessary to help the lead see the need to get them to even know there is one.
T-iming: When are they going to be prepared to buy? While many businesses have a clear timeframe, it's often up to the lead generator or the salesperson to help create a timeline that will work for everyone. The timing of the purchase is often in the control of the salesperson, as long as they gently push up the timeline and the sense of urgency.
Tips for following up with potential customers
Once you have identified a prospect as being a potential ICP, it is important to follow up with them in a timely manner.
You should reach out to them via phone or email and try to set up a meeting. During this meeting, you can further discuss their needs and see if they are indeed a good fit for your products or services.
It's important to remember that simply because someone is not ready to buy right now, they might be ready in a week or a month or a year. Keep everyone in a nurturing program to create a qualified pipeline for later.
Closing thoughts on using BANT to improve your customer selection process
Using BANT can help you to improve your customer selection process by allowing you to quickly identify prospects who are likely to be a good fit for your products or services. By asking the right questions, you can save yourself a lot of time and effort in the long run.
Don't, however, let these questions be the only questions you work with. Once you've gotten through these preliminaries, you still need to work with the client to give them everything they need to make the final decision. You still need to follow-through with the purchase.
Avoiding the pitfalls of BANT
BANT is a powerful way to qualify your leads with a system that is clear and simple. It's ideal for the initial qualification process, but don't allow it to completely eliminate everyone. In many ways, BANT can be a bit unwieldy where a lot of gentle attention is needed.
Take the time to learn more about every lead, using BANT as your initial gateway.
Akshay Divate
More and more companies are utilizing account-based marketing in their business, and this trend isn't showing any signs of stopping. And it's no wonder. One of the great benefits of account-based marketing is that
Akshit J
B2B marketing is becoming complex with each passing day. Customers' expectations are rising. Competitors are increasing. Profit margins are shrinking. Newer challenges are coming. Moreover, the global economy is plummeting. In such challenging times,