Account-Based Marketing (ABM) is a very popular marketing strategy that helps organizations to concentrate resources on target accounts with utmost precision and care. It helps you to weed-out uninterested leads so that you can invest your resources in the right direction.
Looks good!! Right? But there are many channels to run an account-based marketing campaign. Out of which a business website is one popular medium.
This blog helps you to know in detail how you can best utilize your website to run a successful ABM campaign and gain better sales outcomes.
Why is Account-Based Marketing Popular in B2B?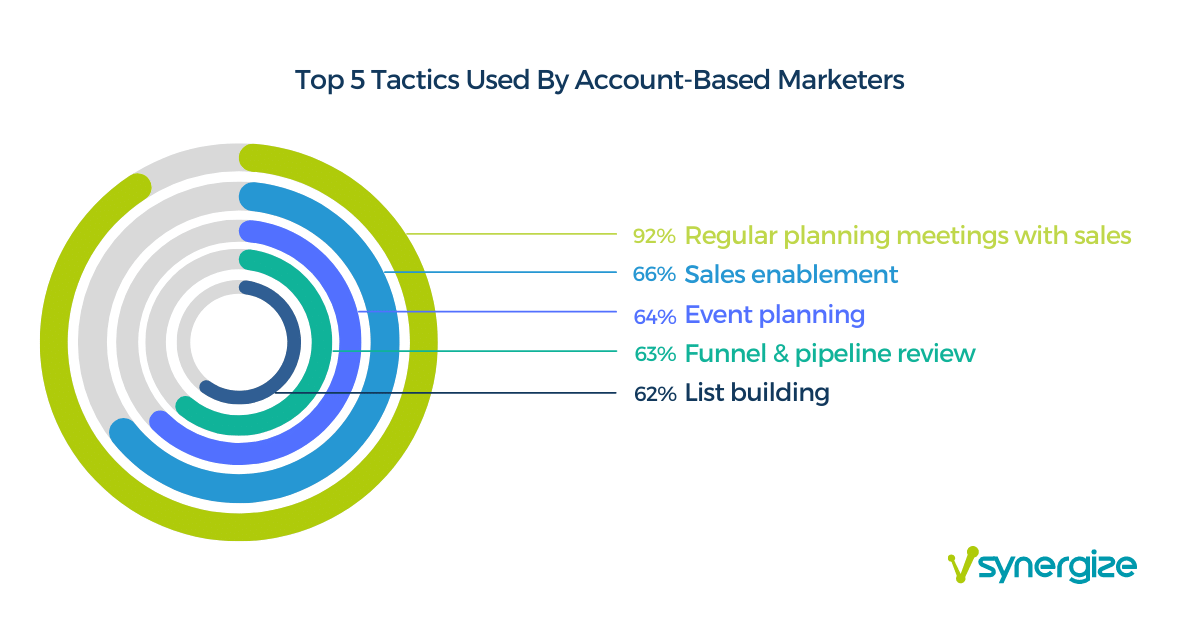 Account based marketing services enables B2B enterprises to focus all their marketing efforts on targeting best-fit accounts to turn them into customers. The goal of this marketing approach is to run campaigns amongst people/enterprises that are highly likely to become customers. That too in a personalized manner to boost conversion.
ABM is becoming popular these days as it provides a wide range of business benefits to organizations. Some of those are:
Higher Returns on Investments: 87% of B2B marketers agreed that ABM campaigns drives greater revenue
Better Sales & Marketing Alignment
Shorter Sales Cycles
Faster Closing
More Cost-effective
Less Waste
Personalized Marketing Approach
Improved Customer Acquisition Process
Better Reporting
4 Effective Ways to Use a Website for ABM
1. Create Microsites for Top Accounts
When you target high-value prospects, it is always better if you treat them uniquely at every touchpoint to make them feel special. So why is your website an exception? It is one of the most important lead generation and nurturing tools. You must leverage its full potential to gain the attention of your targeted accounts. Curious to know how? Well!! It is pretty simple. Just by creating separate web pages or microsites as per your prospects' interests. It helps them to move onto pages that contain information relevant to their core business.
As an enterprise already conducts thorough research about their prospects before launching an ABM strategy, therefore, it becomes easy to curate target-specific personalized content.
Try to cover the pain points and challenges that your prospects are facing while curating content for microsites. And smartly present them with your services as a solution. You can further add testimonials, case studies to strengthen your service credibility. Such an ABM strategy helps attract prospects better towards a brand and makes your website a lead generation funnel.
This way, when your prospects visit your website they easily find what they want rather than wandering to pages that are of no use to them. It makes their web journey engaging, learned, and more satisfying.
Through email marketing campaigns, paid marketing campaigns, or just by giving easy search options on the home page, you can drive those prospects to such microsites.
2. Leverage Event Information on Web Page
The advent of social media and the widespread availability of the internet have given birth to one newer apparatus for generating leads. These are 'Online Events' like Webinars, Round Table Conferences, Q/A Sessions, Virtual Expo, Virtual Fair, and much more. The popularity of these events has grown many fold over the last couple of years. As per a study, it is found that 87% of B2B marketers consider opportunities generated by visual events play a significant role in their overall success.
Online events thus provide a great opportunity to engage and build confidence amongst high-value targeted accounts in real-time. But is only conducting an event in any account-based marketing approach enough? How to keep the conversation and momentum going ahead once the event ends? Simply by doing successive follow-ups through customized content. It proves beneficial when you run an account-based marketing (ABM) strategy.
But How? By analyzing
Topics of events and attendees engagement
What kind of queries they asked
Their industry, expertise, and past history
Pain points, challenges, needs
You can gain meaningful insights about their business while executing an ABM strategy using popular ABM technologies. Further, you can use such valuable findings to curate customized content on websites. This way you can continue their learning journey from the point they left by providing them the most relevant and updated information. That too as per their exclusive needs.
3. Embed Customized Chatbots
In an ABM strategy, creating a personalized communication interface proves beneficial for business growth. While using websites to meet such endeavors, effective usage of chatbots is one such option to allure targeted accounts.
It is one of the most cost-effective mediums to engage, educate, and nurture leads. In one study conducted by IT giant IBM, it is observed that chatbots help businesses save up to 30% on their customer support cost. But serving your key accounts with generic chat scripts won't help you meet the goal that you desire through account-based marketing. For that, you need to customize your chat scripts as well. w.r.t., individual high-value prospect.
Key influencers/decision makers often prefer to engage with agents over chats as it provides them the answers to their queries on an immediate basis. Therefore by curating scripts after analyzing their past history, business challenges, prior account research, etc., you can generate a deeper interest in your services. This ABM approach also helps to increase the satisfaction rate that plays a pivotal role in turning that lead into a customer.
Moreover, by smartly using scripts based on the type of page, you can further enhance the website conversion rate. For example, if your prospect is visiting the feature page then providing the link showing a feature comparison list with your competitors can help them understand the benefits of your services faster. It improves the chances of them turning into customers quite significantly. This page-specific and account-specific chat options might look clumsy to implement (at the first look) but it generates far better revenue results than generic chats.
4. Build Content for Existing Customers
Gaining new high-value customers is not just the only goal behind implementing an account-based marketing (ABM) strategy. It is executed keeping a much broader business scope in mind. If used effectively, account-based marketing can help you engage your existing customers better and make them feel valued about your services.
You might be wondering why we need to focus on people who are already using our services. Well, to make them feel the importance of your services constantly so that whenever the subscription/license period ends they can happily renew business contracts with you without giving any second thought. Interestingly, your website again can help you achieve this objective. How? Let's understand this in detail.
By promoting the advantages/benefits of your services w.r.t., competitors in all terms – technical, financial, and business goals fulfillment wise.
By carefully researching business needs, current service usage & plan, industry type, etc., you can get an understanding of what additional services your existing customers might need. You can present such information on your customized web page and promote the page to get them aware about newer/extended services.
You can drive more demand by adding an ROI calculator, personalized content, and success stories on the web page.
When Should You Use ABM on Your Website?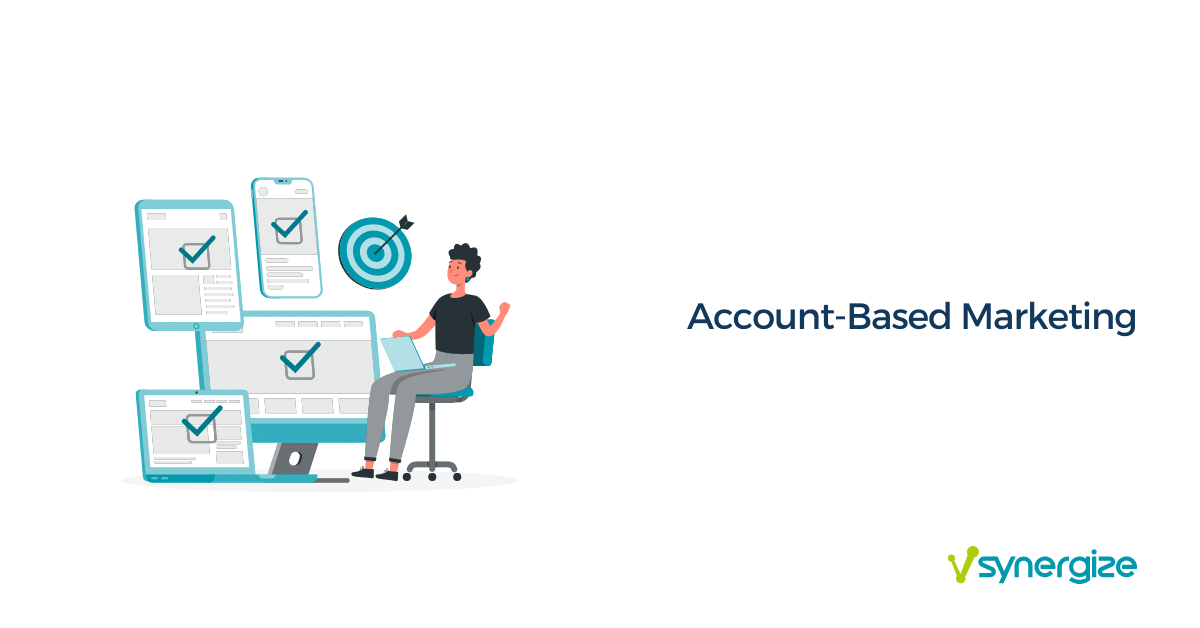 ABM is made for a special purpose. It might not be a right fit for all business types. Therefore, you need to understand a few things in advance before proceeding ahead with ABM. Experts say that if you sell low-ticket products or services to a very limited market then ABM is surely not a right fit marketing solution. It is useful when
You sell a high-value or complex product/service meant for big clients
Your sales cycles are longer and the average deal closing time is higher
Average deal size OR the Life-Time-Value (LTV) of your product/services is around say over $30,000
You want to target a specific type of companies/industries
Your product subscription cost is very higher
You need to influence key decision-makers since the inception of your sales cycles
If your business needs to achieve any or all of these things then you must adopt ABM and leverage its potential to maximize revenue gains.
Account-based marketing is one of the most useful marketing strategies in the B2B world. Many consider it as the best way to acquire high-value customers in a timely and cost-effective manner.
Are you facing challenges in running successful ABM campaigns? Need not to worry anymore. We are here to help you out. VSynergize is a trusted name in the field of lead generation having expertise in ABM. Our adept manpower can help you meet your business needs with ease and assist you in making your business profitable.
Contact us at info@vsynergize.com to know more about our services.
Akshay Divate
More and more companies are utilizing account-based marketing in their business, and this trend isn't showing any signs of stopping. And it's no wonder. One of the great benefits of account-based marketing is that
Akshit J
B2B marketing is becoming complex with each passing day. Customers' expectations are rising. Competitors are increasing. Profit margins are shrinking. Newer challenges are coming. Moreover, the global economy is plummeting. In such challenging times,