Account Based Marketing Services are one of the most powerful kinds of B2B marketing stated by ITSMA, Demand Generation Report. The report claims that  – Account-Based Marketing has a higher ROI, drives more revenue, and generates more relationships compared to other marketing strategies.
However, in spite of the visible success, research shows that many companies still set back 
by common marketing challenges, such as lack of internal resources (36%), poor alignment between marketing and sales (35%), developing target account personas that claim (31%), and predicting account for the investment is  (31%).
There is no such practice that claims a 100% favorable outcome at one go using an Account-Based Marketing strategy, you need to keep on trying new trends and techniques, as there's plenty of certainty surrounding its success. Regardless of the visible success, research shows that many B2B Lead Generation Companies are still hindered by common marketing challenges, including a lack of internal resources and predicting which account will buy.
Account-Based Marketing is one of those terms that every Lead Generation agency would have heard alot but maybe they haven't explored completely yet. Are you seeking the latest productive go-to-market plan in the new digital-first Account-Based Marketing (ABM), work-from-home environment?
Or maybe you've done your research on Account-Based Marketing, learned the benefits, and now you would be seeking the best ways on how to get started with your Account-Based Marketing program? Either way, you're on the right track VSynergize, an Account-Based Marketing Agency helps you rigorously with complete Account-Based Marketing services!
With VSynergize Account-Based Marketing (ABM) Services you will additionally learn:
The best data sources when building out your ideal customer profile.

The most useful platforms to use in the current competitive world to get your brand at the forefront of the accounts.

The go-to-market Account-Based Marketing strategy and plan.

Tactical things to consider during this process, from the Sales and Marketing point of view.

Forming your next Account-Based Marketing strategy using automated tools and technologies in your Lead Generation program.
But before starting with your Account-Based Marketing strategies and action plans, it's highly important to analyze where your organization currently stands on the Account-Based sales evolution spectrum.
Check out 10 steps to building a B2B Account-Centric Lead Gen Program:
Take a two-fold approach when building out your Account-Based Marketing strategy.

Focus on educating and training your team.

Form relationship between Sales and Marketing.

Check insights available about target accounts.

Ability to run Omnichannel Marketing & Account-Based Campaigns.

Concentrate on using Intent data.

Start to move from ABM to ABX (Account-based Experience).

Invest in sales enablement.

Track your ABM Outcomes.

Onboard people with ABM experience.

You will surely test out a strategy and quickly find that it isn't working as well as you thought it would, and this will happen countless times before you get it right for your business. But once you get on to the right strategy, you will never go back to traditional B2B Marketing.

While a lot of elements combine and make up an Account-Based Marketing platform and permit it to plan and implement to form a successful Account-Based Marketing campaign at scale, nothing can replace B2B Intent data. 

The strategic application of intent indicates real-time content patterns with other crucial intelligence, that expands the scope to derive hyper-relevant and highly engaged lists of prospects.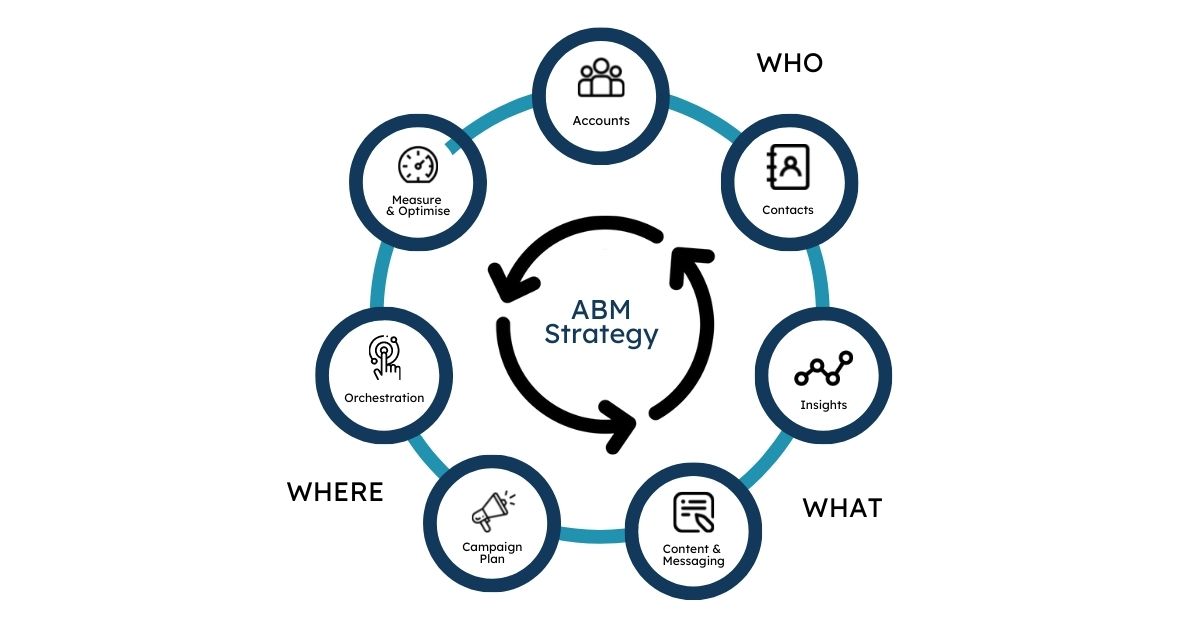 This prioritization provides a significant advantage when it comes to designing digital Account-Based Marketing campaigns and considering the B2B Content Marketing funnel that aims to reach your best fit opportunities and intercept the small percentage of buyers.
Anyhow, Account-Based Marketing Solution includes both sales and marketing, their metrics can be used to evaluate various characteristics. 
Tracking and measuring the actual performance of ABM can be tricky since the lifetime value of accounts often cannot be simply measured. On most screenplays, it's quite effortless to track ABM success by the number of marketing qualified leads (MQLs) and sales accepted leads (SALs) generated from the campaign.
Whether you are an enterprise organization or a giant size business, escalating ABM is one of the greatest challenges for all B2B marketers.
Let us know how you will reinvent your Account-Based Marketing (ABM) Strategy?
You can learn more about Account-based Marketing stuff at a simple go, by just connecting us! We are unleashing all the latest Account-Based Marketing insights! Let's discuss your queries and thoughts on Account-Based Marketing.
Connect us directly at info@vsynergize.com or call on 855-203-8196