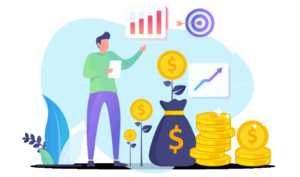 VSynergize helps Canadian startup identify opportunities worldwide and generate 3X revenue
The client is a Canadian based startup that has developed a platform for users to search for places to stay around events; with over 6.5 million listings in over 200 countries worldwide. The map-based accomodation system allows event attendees to find a place to stay nearby the venue for the lowest prices available online. They help event organisers have their own hotel or apartment booking solution directly embedded on their website.
The client conducts thorough market research to partner with the right event organizers and needs constant support for various market research related services. They needed us to perform research, gathering of contact info of event lists, cross-checking databases, building a database further and working with them as an extension to their in-house team.
They needed a team to work in their time zone to enable smooth and transparent communication. There were a set of specific tasks that was attached to this research work and posed as a challenge to complete the work within the specified time. Creating such a database required both primary and secondary research.
VSynergize was quick and efficient at understanding the client's requirements and ensured to provide them with our research support services. VSynergize setup a team with prolific research experience background, to validate the available information and conduct thorough secondary research to collect the required data. The team worked with the client in their time zone and completed the project successfully. We provided authentic and valid data for each of the events listed approved by the client and maintained a database with up-to-date information.
"VSynergize was quick at understanding our market research requirements and had a scalable team of skilled research experts. They have a deep-domain expertise and the right data to back them up."
– Client Sales Head
VSynergize helped the client's sales team identify high ROI opportunities worldwide and generate 3X revenue. Armed with an increase partner network, the client was able to also able to convert qualified leads quickly.
The project was approached with double the effort and delivered within the given deadline even though there was no there was no existing system or methodology for placement of the data. This meant careful and meticulous data entry processes throughout the project.
Our work with the client gave them a better understanding of the formal lead generation process. This one-of-its-kind project was completed successfully after simplifying the work model and getting a dedicated team to work on its each aspect. The client is now looking for more classifications to fit their future projects.