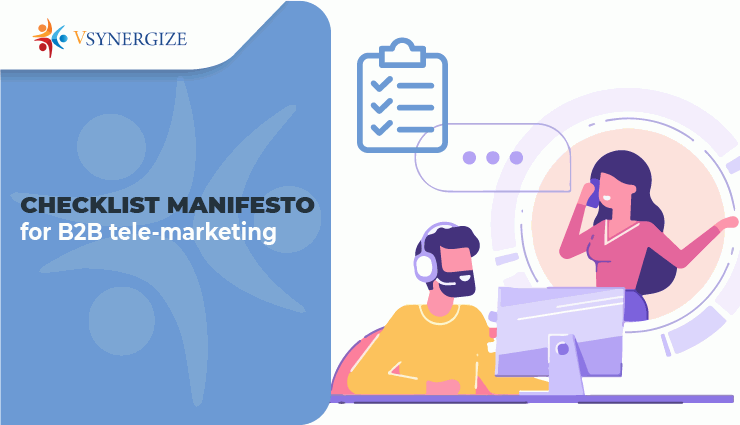 Checklist manifesto for B2B tele-marketing
The main focus of B2B telemarketing companies is to maximize the Return on Investment. Nowadays, quality lead generation and appointment setting is more important than simply implementing a telemarketing strategy. All companies are focused to see the end result and generate substantiate amount of funds through tele-marketing.
With the passage of time more and more companies are focusing on targeted telemarketing campaigns that ensure high volumes of quality prospects are the way to go in terms of securing ROI.
Here's a thing Checklist manifesto for B2B tele-marketing
Support your team with crisp information about the campaign they are promoting
It helps you find and filter out people you want to have as customers and what their specific needs are
It helps you to elevate awareness and boost the brand image and value
Tele-marketers nurture the profits of the company through market research
It allows you to build your credibility and image among existing and future clients
Tele-marketing shifts your focus to new growth opportunities that elevates your growth prospects
Scheduling calls correctly allows companies to make the most of your time and helps in quality lead generation
It starts and maintains a pertinent dialogue with current partners of the company, keeping the relation going
Researching the prospects you are calling and establishing the correct time to call will have a drastic effect on your results
Lead generation, Appointment setting and segmentation will help in qualification of leads
Form a well-structured pipeline to develop a structure for your campaign and a tentative purpose for every call
Tele-marketing team should help each call move the prospect to step closer to a sale
Generating telemarketing sales leads has been proven to be one of the most effective ways to convert more sales for your business. The focus is achieving maximum return on ROI by using quality telemarketers for quality lead generation and appointment setting.
If you are in the lookout for a company to assist you and help you generate more sales leads, contact us.