In the last few years, there has been some confusion between the terms demand generation and lead generation. Sometimes even the marketers use these terms interchangeably which has led to more doubt. But are these terms demand generation and lead generation actually the same? If not the same then what are the differences between them? Read the blog till the end as we will clear all your doubts regarding demand generation and lead generation.
What is B2B Demand Generation?
Demand generation marketing is all about letting the audience know about your services and developing their interest. The aim of demand generation is to create buzz for the service and bring traffic to the website.
Demand generation is vast in terms of the goal and is about creating awareness and demand for the service. It helps to catch the attention of vast audiences and bring them into the sales funnel.
What is Lead Generation?
Lead generation is the process of turning prospects into loyal long-term customers. Lead generation is the next step of the demand generation marketing efforts. First, the B2B Marketers get the prospects in the sales funnel through demand gen and then convert them into leads through lead generation.
However, there are different ways through which you can convert prospects into customers. You can use different content posts to target prospective clients at different stages. There are many methods that you can use such as Account-Based Marketing, direct emails, cold outreach, etc.
Comparison: Demand Generation Vs Lead Generation
Demand generation campaign focuses on getting the attention of new audiences, generating interest, and introducing them to your services. Whereas lead generation focuses on turning the audiences into qualified leads.
As you can see, there's a direct correlation between demand generation and lead generation. A prospect won't directly close a deal with you without being sure. The demand generation does the primary task of generating interest and the lead generation helps in conversion.
Key difference: Demand Generation Vs. Lead Generation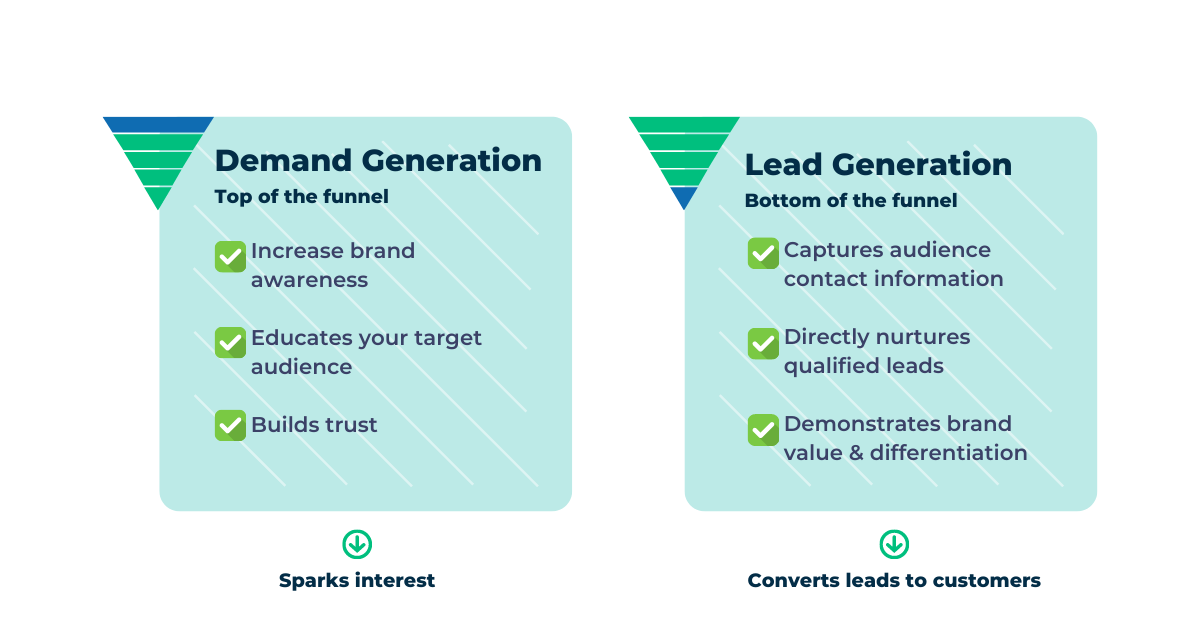 Demand Generation
Fuels up the top of the funnel
Generates Interest
Increases brand awareness
Gives information about your services
Helps in building trust
Lead Generation
Fills up the bottom of the funnel
Generates high-quality leads
Gets the information about the prospects
Puts forward differentiation points
Converts the leads into customers
Now, you must have understood that demand and lead generation are significantly different. By approaching demand generation and lead generation differently, you can make an essential difference in your marketing methodology.
Examples: Demand Generation Vs. Lead Generation
Demand Generation
The B2B Marketers can use a wide variety of content for demand generation campaigns. The goal is to get recognition and generate interest in the right target audience. We have discussed the various demand generation tactics with examples below.
Brand Awareness
The first step of the demand generation strategy is to make your potential customers aware of your brand and services. By posting impressive and compelling content you can pull the prospective clients to the top of the funnel. Once they enter the funnel, you can target them with lead generation content.
With brand awareness, your aim should be to create a positive perspective along with associations. For example, your company sells toothpaste. Toothpaste is the daily basic need of people. You need to generate brand awareness such that people associate their needs with the product. So when people ask for toothpaste, they should take the name of your brand instead of saying "toothpaste".
Create Buyer personas
Just filling up the funnel with people isn't enough, you need a higher conversion rate. Therefore, it's important to get the right prospects in the funnel for closing maximum deals. You can create a buyer persona to better understand your customers and their pain points. This will also help you to develop the customer journey map and evaluate the buyer's journey.
By creating targeted demand generation marketing tactics you can get great results. A good example is the Progressive Auto Insurance ad campaign. They understood the buyer's mindset and came up with the ad line "Afraid of becoming your parents?" This particularly tackled the Gen Xers and millennials buying their first home. At the end of their advertising, they said, "Progressive can't help you avoid becoming your parents, but we can save you money on home insurance." This made a strong impact on the audiences and forged them to think about taking insurance.
Well Thought Leadership
Demand generation marketing is not just about what you provide to the customers. Nowadays, people also pay regard to the values you promote and provide to society. The leaders should understand the difference between implementing strategies and creating thought leaders.
Dan Price, the Gravity Payments CEO became popular when he slashed his own pay to give each employee a $70,000 a year base salary. This decision was quite highlighted on social media. It also led to increase in Gravity's revenue by 15% year after year. This shows that thought leadership helps to create a deeper level of impact on the prospective clients.
Lead Generation
Demand gen is broad when it comes to marketing strategies and tactics. However, lead generation is much more specific and targeted. Using content marketing, email campaigns, and Account-Based Marketing can help you with lead generation.
Gated Content
You must have seen that when you visit a particular website, certain content can be accessed only when you provide specific information. This type of content is called gated content. The information that you provide then further goes to the sales team to establish a connection.
Gated content has gained popularity over the years as it collects important information about website visitors. Usually, this information is like the email addresses, company names, and phone numbers. This type of content marketing is also known as a "lead magnet". 
You can create gated content in different forms such as to access webinars, ebooks, surveys and case studies, etc. However, when people provide you with important information their expectations of your content increase. You should make sure that you give them value content along with your business details in exchange
Social media
Social media has become an important part of the lead generation strategy. Earlier, social media was seen as a B2C marketing tool by the B2B Marketers. But as businesses are turning to digital platforms, social media has gained importance as a B2B marketing tool. LinkedIn and Twitter are professional platforms that marketers can use to create awareness and educate prospects.  
You can make your brand's social media presence appealing and creative. The more you stand out from your competitors, the more CMOs and decision-makers will notice you. Using social media posts can get the attention of your target audience and humanize your brand. So that if the prospects have any queries and doubts, you can answer them directly.
Different content posts
You can use different types of content posts for boosting your lead generation strategy. These days visual content like images, infographics, and videos get more attention from the audience. You can analyze and use the content type which gets the maximum engagement.
For example, a visitor might not stop to read a 1,500-word blog but might watch a quick 2 min video. You can also show creativity in your email marketing campaigns and newsletters by attaching visual content to them.
You can use dynamic content in order to make your lead generation plan successful. You have to build the trust of the prospects over time through content strategy. You need to make them believe that your solution will help improve their overall business.
Metrics: Demand Generation Vs. Lead Generation
B2B Marketers might be doing a lot of efforts to generate and meet their business revenue goals. But it is equally important for them to know the results of each strategy. So that they can make informed decisions and invest accordingly. 
There are a lot of tracking points, Key Performance Indicators (KPIs), and metrics that marketers can use. We have mentioned below the metrics for both demand generation and lead generation strategy.
Demand generation metrics
Market share %
Cost Per Mile (CMP)
Organic traffic
Lead generation metrics
Marketing ROI
Conversion rate
Customer Acquisition Cost (CAC)
B2B Demand generation is about attracting new visitors and bringing about their interest in your service. It aims to make as many people aware of your services and lead them to the sales funnel. However, lead generation is completely different and is about converting audiences into leads. Lead generation aims at demonstrating the brand value, gaining the trust of the prospects, and converting them into loyal customers.
Akshay Divate
More and more companies are utilizing account-based marketing in their business, and this trend isn't showing any signs of stopping. And it's no wonder. One of the great benefits of account-based marketing is that
Akshit J
B2B marketing is becoming complex with each passing day. Customers' expectations are rising. Competitors are increasing. Profit margins are shrinking. Newer challenges are coming. Moreover, the global economy is plummeting. In such challenging times,