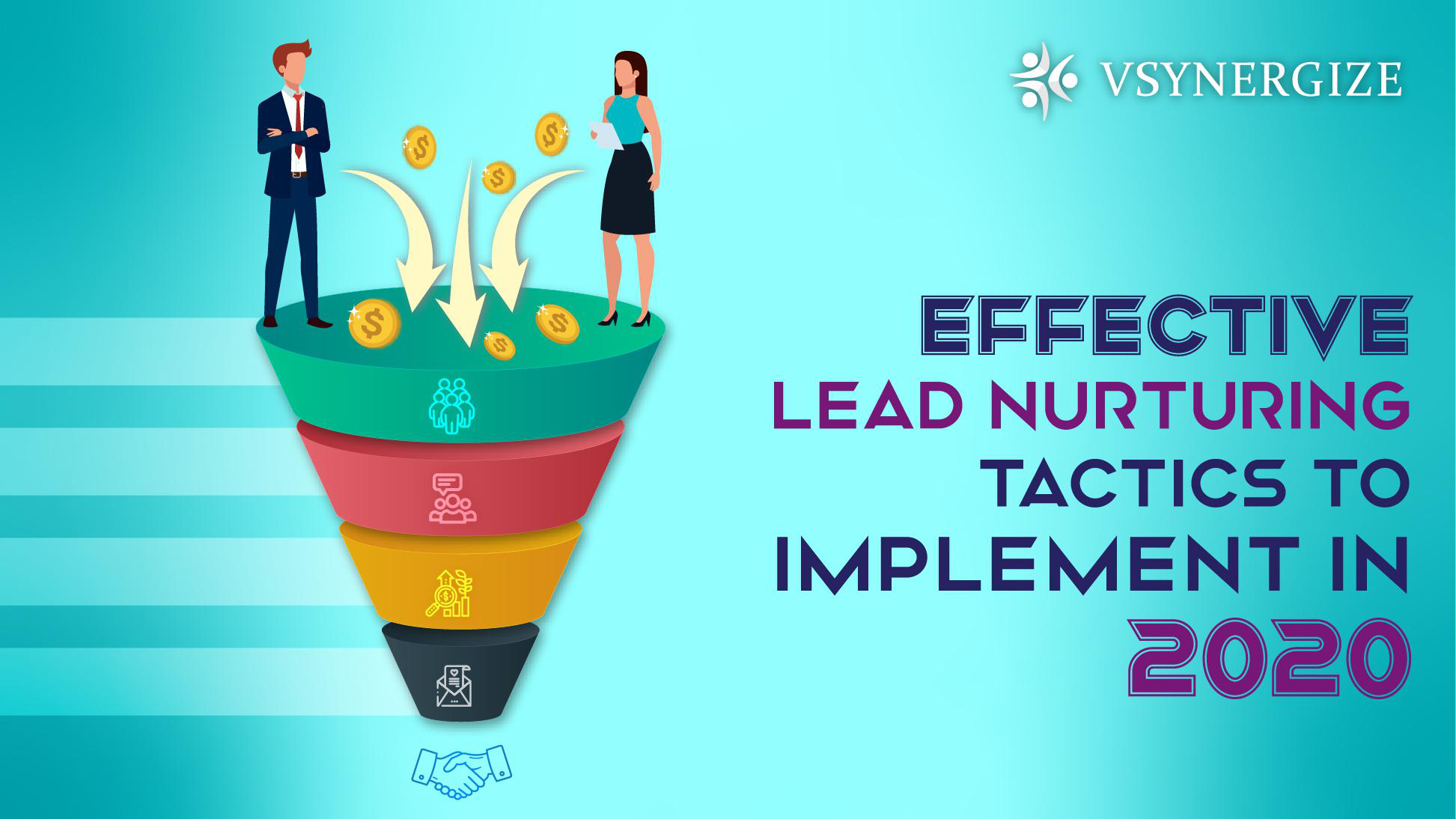 Effective Lead Nurturing Tactics To Implement In 2020
Lead Nurturing can't be delayed. As 67% of B2B Marketers state that they perceive at least a 10% increase in sales opportunities through Lead Nurturing, with 15% escorting opportunities increased by 30%. The  Lead Nurturing method forms a connection with buyers at every phase of the sales funnel and through every step of the buyer's journey.
As sales funnels increase, buyers grow more independent, and the effectiveness of Lead Nurturing continues to expand. If your brand isn't putting any effort into buyers' interest, your competitors probably will do so, and in this way, you will lose your market share considerably.
Here are some of the effective ingredients for Lead Nurturing
1. Your Brand Should Be Trustworthy
Build trust by proposing a variety of levels for leads, by clearly describing the goals and setting expectations, and then fulfilling exactly what you've insured. Buyers respond to brands they rely on.
2. Your Communication Should Be Relevant
Who is your audience? What do they want from you, and when? How are you upgrading? Classify your Leads according to the needs, education level, position in the buying lifecycle or industry. Designing robust identities can help you Nurture Leads.
3. Your Content Should Be Conversational
Personalize your content by communicating with each Lead about their industry type, their pain point also their phases of buying cycle, etc. Personalization may sound difficult, but the right marketing automation platform can make it effortless and scalable.
4. Your Strategy Should Be Multi-Channel
Mobile-friendly marketing is becoming more and more important. Your prospects can view your messages on mobile phones or tablets. So make sure that how do your emails and website look on these platforms/devices? Verify hot efficient and easy is interaction with your prospect?
5. Your Numbers Should Be Strategic and Impactful
Your Lead Nurturing efforts should make an impact that you can measure, and not just with vague terms. Identify what was done, and what was the outcome over a clearly defined period of time.
According to the Marketo, 50% of the Leads in any behavior are not inclined to purchase. Also, 80% of new leads never become sales as per MarketingSherpa. According to Forrester Research, Companies that be excellent at Lead Nurturing make 50% more Sales Leads. Nurtured Leads generates 47% larger procurement than non-nurtured  Leads.
Ideas that will help you to add value to your Lead Nurturing campaign
1. Direct your Leads to in-depth content you've created, such as blog posts, videos, etc.
2. Offer a discount on your most popular product.
3. Explain how you overcame a problem that your Leads face
4. Provide exceptional benefits
If you are unaware of the product's marketing, you first need to figure out what it does. Aligning Sales and Marketing teams together to improve, or evaluate and set your Lead Scoring process is the best practice you can do. Also, you can start building content to deliver to each of your personas on a small scale.
Best Strategies to Form Effective Lead Nurturing Process Campaigns
1. Personalization of your content is essential for Lead Nurturing
2. Do Not Spam Your Leads
3. Start Your Lead Nurturing Process Campaign
4. Segment Your List to Target Specific Groups
5. Find out the pain point of your Leads
6. Use Multi-Channel Lead Nurturing
7. Measure the interest of your Leads
8. Examine if Leads fit your brand or product
9. Automate Your Lead Nurturing Email Campaigns
If Lead Scoring is the spine of a successful online marketing strategy, then Content Marketing is the muscle. In a marketplace where buyers are cautious of advertisements and selling through the funnel, Content Marketing has risen up to give brands a voice.
Based on a lead's fit, interest, and behavior you can set a purpose to each of the qualities and efforts. The most obvious way is to specify a value (positive or negative) to each behavior and then set up a minimum score that leads must earn before your sales team contacts them. Lead scoring creates a baseline for Lead Nurturing based on the involvement of three qualities: Ready, Able, and Willing. Your lead's score should be positioned on a particular scale, from  1-10. Each value should represent your lead's position in the consumer's journey.
Lead Nurturing is essential to keep your target audience familiar with your brand and going through their marketing journey. Skillful marketers are turning to content in bulks to achieve those goals, but many are still looking for a way to improve their process. Using these practices in your Lead Nurturing journey can shine through every level of your content, and your brand will lead the game. VSynergize's Lead Nurturing services help companies design and execute Lead Nurturing campaigns to meet specific engagement goals. For more details reach us now on 855-203-8196 or email at info@vsynergize.com.