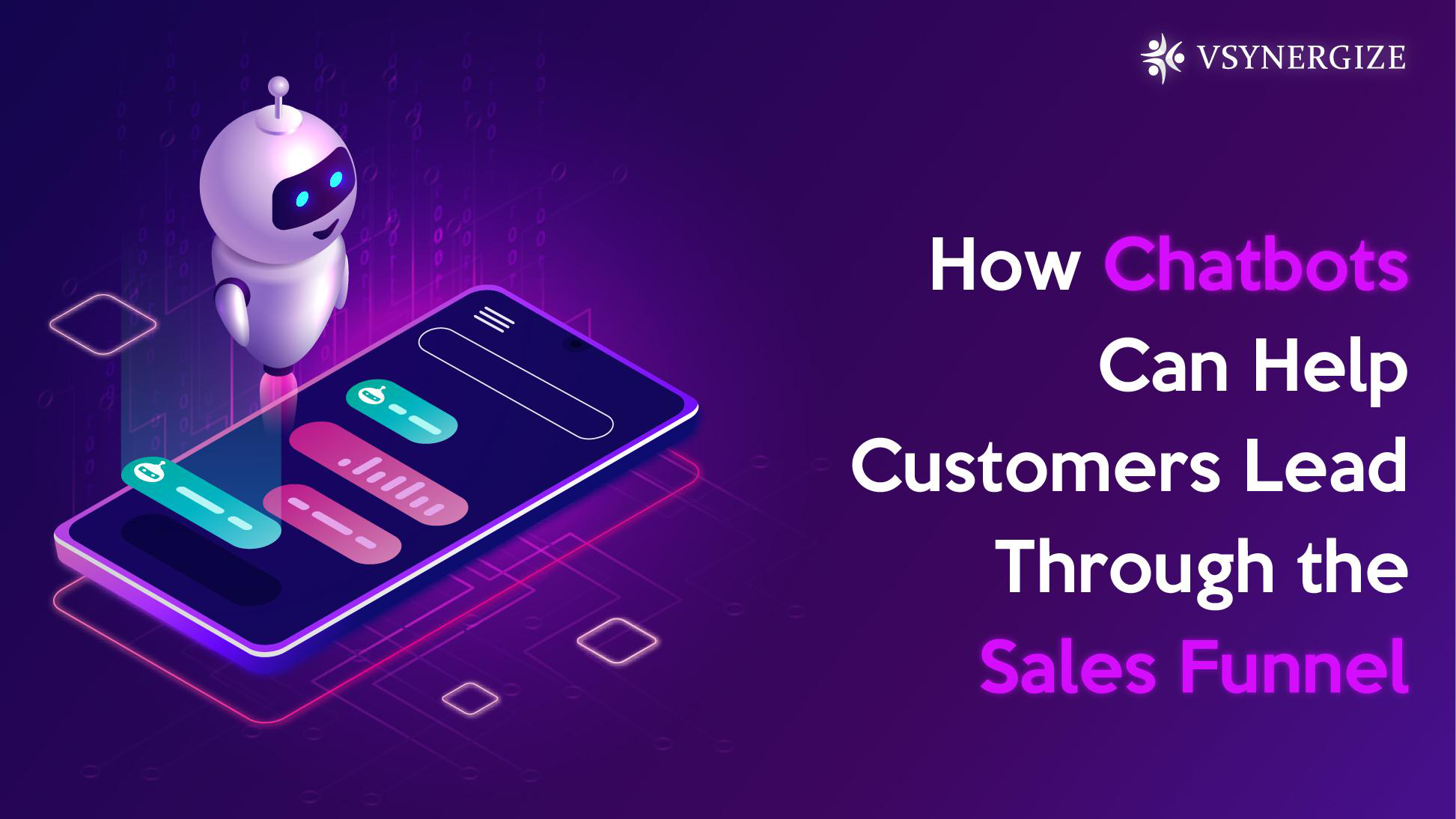 How Chatbots Can Help  Customers Lead Through the Sales Funnel
What is a Chatbot?
A Chatbot is a computer program that interacts with the end-user. Chatbots can be simple programs based on rules, Artificial Intelligence makes them much more advanced, and this also makes them suitable for broader tasks. Chatbots are forecast to pass from the simple user-based queries to more imminent real-time conversations. Chatbots can be the best way for every stage of your Inbound Marketing & Sales funnel.
Gartner says that Artificial Intelligence (AI) will be mainstream for Customer Experience. Also, 47% of businesses in Customer Care sectors will make use of Chatbots.
So How Do Chatbots Work?
Chatbots somewhat works like an automated telephone system. The rules are set up into the program, and the chatbot works firmly within the rules. Chatbots that use AI, can have much more logical conversations with users. This type of chatbot learns from every interaction it has with the user and gets better at understanding both the user's purpose. Chatbots formed with Artificial Intelligence offer more potential, including another way to reach and converse with customers. They can also be used to generate quick conversions and act as a digital version of a salesperson.
As per reports, customers' engagement with businesses that use messenger Chatbots is almost 55%.  Chatbots can assist you to turn leads into customers more skillfully and render you with data you can use to notify about your marketing and sales efforts. Companies of any size can use chatbots to help push on leads through their sales funnel during the four phases – Awareness, Interest, Decision, and Action.
How Chatbots can be used as effective online Lead Generation tools.
1. Chatbots can nurture leads
A chatbot can send regular follow-ups based on a consumer's behavior, such as the time they open their emails. And since chatbots possess automation features businesses can run lead nurturing campaigns without constant monitoring.
2. Chatbots help with immediate customer service
Oracle says that over 50% of customers expect a business to be open 24/7. With Chatbots deployed on your website, no customer is ever ignored. Also, they are faster than human response time. Chatbots also have a faster response time than human salespeople. Hence, faster conversion rates with minimal effort.
3. Chatbots help with better Social Media Campaigns
Chatbots have become the future of social media marketing. A chatbot can send follow-ups or promotional messages to customers on a timely basis like informative articles, case studies or testimonials.
4. Chatbots help improve customer experience
A chatbot is like a personal guidance buddy on a website. They ask customers what they're looking for, followed by a series of questions to narrow down a product or solution search.
5. Chatbots can drive conversations through predictive analysis
Chatbots collect data from which they can determine behavioral patterns of customers and accurately segment them. Marketers can use such data to target prospects effectively throughout the sales funnel.
The Chatbot Lead Generation strategies can get you more effective leads. As only productive leads will turn into genuine customers. Also, consumers prefer chatbots to communicate with businesses as the chatbot conversion rate is higher. A well-designed and implemented Chatbot can grow visitor engagement by
1. Telling Stories.
2. Acquiring, educating and qualifying Leads.
3. Providing customer support.
4. Triggering marketing automation workflows.
5. Managing users to key conversion pages of your website.
Chatbot trends to watch out in 2020
The use of chatbot will increase in the near future. Also, 68% of consumers note that messaging is the most convenient way to stay connected with businesses. Here are the upcoming chatbot trends that will take your business to the next level.
1. Chatbots will be more human
2. Use of AI in contact centers
3. Messaging platforms as a growth driver for Chatbots
4. Voice bots are becoming mainstream
5. Social media will dominate the adoption of AI
6. More use cases for consumer applications
7. Bots for internal use for enterprises
8. Chatbots will automate payments
9. The customer experience will drive Chatbots adoption
10. Deep customer insights to drive Chatbot behavior
In the current Chatbot trends, more industries are using chatbots to automate the business processes. Chatbots are now being used in many business verticals to deliver high-level customer service and upgrade the customer experience.
Chatbots are going to establish and reach diverse business functions and Consumer Applications. Looking forward,  automation will make it be extra powerful in industrialization and overcome all the chatbot challenges faced by businesses. Possessing a deep knowledge of your business requirements and therefore implementing chatbots will highly impact your customer journey and experience.
Chatbots will be modifying the way businesses interact with their patrons. Some of the common uses can be Customer Service, Lead Generation, Customer Engagement, Messaging Apps, Human Resources, etc.  Build your own chatbot to generate high-quality leads for your business and they'll make it far easier to push customers down the sales funnel. Give your Lead Generation strategy a boost today. Feel free to have a discussion with us on 855-203-8196 or email at info@vsynergize.com