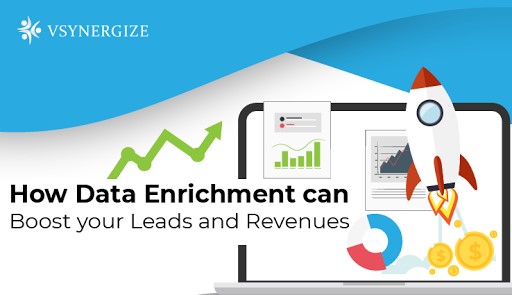 How Data Enrichment can  Boost your Leads and Revenues
Today's data is more complex than ever. It contains a lot of information and hence it can often get difficult to handle it. This is why we often make this data go through several processes to make it more useful.
One such process is data enrichment. In this article, we'll talk about data enrichment and its role in managing data.
Data Enrichment is defined as intensifying existing data by finding and adding more absolute and relevant information to the current one, in short – increasing the value of the data profile.
As easy as it sounds, data enrichment takes a lot of effort and knowledge of the right research tools to execute. Usually, all on-the-surface data is not exclusive, so adds little value. To find a real game-changer, you have to dive into granular B2B databases and spend some time studying and filtering everything you see.
Data enrichment has recorded a whopping 80% growth this year and what's remarkable is that this genie has the potential to multiply your ROI by 200%. According to a publication in the CMR Journal – An organization's intellectual capital is said to be a source of competitive advantage and there is evidence that business success can be partly explained by its intellectual capital.
When do you need to start with Data Enrichment?
You should update your sales data from time to time to ensure that you're ahead of the game. However, there are some cases when data enrichment is vital to your success.
1. When you have an extensive database.
2. When you are planning a campaign.
3. When you are expanding your services.
Enriched data brings you more knowledge about your existing and potential customers, thus giving you more ammunition for promoting your brand in your niche. It's the perfect way to discover new opportunities and refine your existing assets.
Types of data used in Data Enrichment
Since there are different types of customer data, there are several types of data enrichment.
1. Firmographic Data
2. Event Data
3. Contact Data
4. Technological Data
5. Custom Data Qualifiers
According to the Netprospex – Marketing Data Report there's an overwhelming number of Demand Generation marketers are prioritizing lead quality over lead volume:
1. 74% – consider lead quality over lead quantity as a primary focus.
2. Also 59% – Rank improves the depth and accuracy of databases to the top priority.
Data Enrichment cases that make your business move much effortless
1. More useful forms to capture leads
2. Better Segmentation
3. Improved Lead Scoring
4. Personalized Services
Benefits of Data Enrichment
Enriched data gives you more knowledge regarding your business and customers, thus offering you more ammunition to improve your brand's presence.
Here is why it may be a good idea to consider using a data enrichment tool:
1. Lets you collect valuable data
2. Improve the accuracy of your data
3. Identifies recurrent entries
4. Creates great business relationships
5. Maximizes customer nurturing
6. Help you save time
7. Greater sales closures & business ROI
Enriched lead data is so valuable because it captures real-life. Unlike standard data, it has an unlimited depth of insights to deliver automated decisions with greater dependability.
As a result, enriched data can be trusted to carry out the most B2B marketing strategies including:
1. Powering Account-Based Management strategies with the right target audience list
2. Improving segmentation and targeting by perfecting data
3. Staying on top of new decision-makers your target accounts
4. Forming intelligence on what brings sales and motivates decision-makers
5. Making better and more targeted content
When it comes to compelling sales campaigns and keeping your business ahead of the game, Data Enrichment is a must. It's the process of:
1. Cleaning irrelevant, outdated, invalid data out of your data set.
2. Expanding your existing data profiles, making them more detailed and nuanced.
3. Gaining more consideration on your content, value propositions, and prospect interaction.
4. Improving your targeting and goal-setting.
Data Enrichment is your way to a refined, and more organized work of your sales executives since they spend less time on segmenting your target audience and determining top priority prospects, and focus more on engaging these prospects.
The Bottom Line
As the industry matures, B2B Marketers are increasingly looking for ways to wring as much value as possible from the assets they already have.
Yet lead enrichment is more than just a tool in the drive for efficiency – it's the key to securing a stronger competitive advantage.
Not only will this new caliber of data accelerate each acquisition with more sophisticated marketing strategies, but it also (and more importantly), works as a fundamental advantage to successfully convert that lead when it really counts– before someone else does.
Therefore, it's vital to explore the data fields attentively to reveal more outreach and engagement opportunities without investing in costly PPC campaigns and artificial promotion. With VSynergize, even the most specific granular research is carried out much more effortlessly and faster. If you have more queries, feel free to reach us directly on 855-203-8196 or email at info@vsynergize.com