Introduction
With the right team and tools, a telemarketing call center can ignite interest, offer useful information, create opportunities, and increase sales. But even in social networking and pioneering IT-based communication solutions, no tool can replace a person's voice.
Telemarketing is a pivotal tool and a direct channel to engage, inform, and ultimately influence potential customers. In this era dominated by digital advancements and innovative communication solutions, the power of the human voice remains unparalleled. A well-orchestrated telemarketing call can pique interest and provide valuable insights, create opportunities, and boost sales for a business. 
However, in business, one must recognize a fundamental divergence in marketing strategies employed by companies selling to regular consumers (B2C) instead of those targeting fellow firms (B2B). The former often invests heavily in marketing initiatives, leveraging various strategies to capture consumer attention. Conversely, the latter prioritizes different aspects and employs a more focused marketing approach. 
Many enterprises in the B2B domain aim for rapid success in the competitive business market. However, to achieve this, a deeper comprehension of what defines the value of an online business brand is imperative. This understanding underlines the significance of strategic marketing for reaching organizational objectives effectively. 
Consumer decisions in the online marketplace are significantly influenced by established brand trust, complemented by service quality, competitive pricing, and product variety. Intriguingly, in the realm of B2B telemarketing, the price of a product holds relatively less weight when potential buyers make purchase decisions. This emphasizes that factors beyond the price tag are crucial in B2B purchasing dynamics. 
In this blog, we delve into the distinct realms of B2B and B2C telemarketing, deciphering the nuances that set them apart. We explore strategies for success in both domains, aiming to equip businesses with valuable insights into leveraging telemarketing effectively to drive growth and forge lasting connections.
B2B Telemarketing: Building Bridges Between Enterprises
At the heart of the B2B (business-to-business) telemarketing realm lies a dynamic and strategic approach that fosters connections between enterprises. It is a multifaceted endeavor that extends beyond mere sales calls. B2B telemarketing, as a practice, centers on one business engaging with another to achieve several critical objectives.
Enhancing Brand Awareness:
B2B telemarketing acts as a catalyst for boosting brand recognition and credibility within the business community. By initiating direct and meaningful conversations, businesses can introduce themselves and their offerings to potential clients in a personalized manner. This direct engagement serves as a crucial platform for brand exposure.
Uncovering New Leads:
Beyond traditional lead generation methods, B2B telemarketing enables organizations to discover fresh prospects and opportunities that may remain hidden. Armed with industry-specific knowledge and market insights, telemarketers can identify potential clients whose needs align with the products or services offered.
Cultivating Opportunities:
One of the distinguishing features of B2B telemarketing is its focus on relationship building. It goes beyond the immediate sale and seeks to facilitate long-term opportunities. By engaging in direct conversations, businesses can understand their prospective clients' unique challenges, pain points, and aspirations. This knowledge becomes the foundation for tailored solutions and future collaborations.
Mutually Advantageous Relationships:
The essence of B2B telemarketing lies in nurturing strong, mutually beneficial relationships with fellow entrepreneurs. It's about more than just making a sale; it's about positioning oneself as a trusted partner. These relationships are built on trust, transparency, and value delivery.
In essence, B2B telemarketing represents a strategic approach where every interaction is an opportunity to strengthen connections within the business community. It's a nuanced practice that requires in-depth knowledge of one's brand and the specific needs and challenges potential clients face. By leveraging the power of direct communication, B2B telemarketing serves as a bridge between enterprises, facilitating growth, collaboration, and the realization of shared goals.
B2C Telemarketing: Nurturing Customer Connections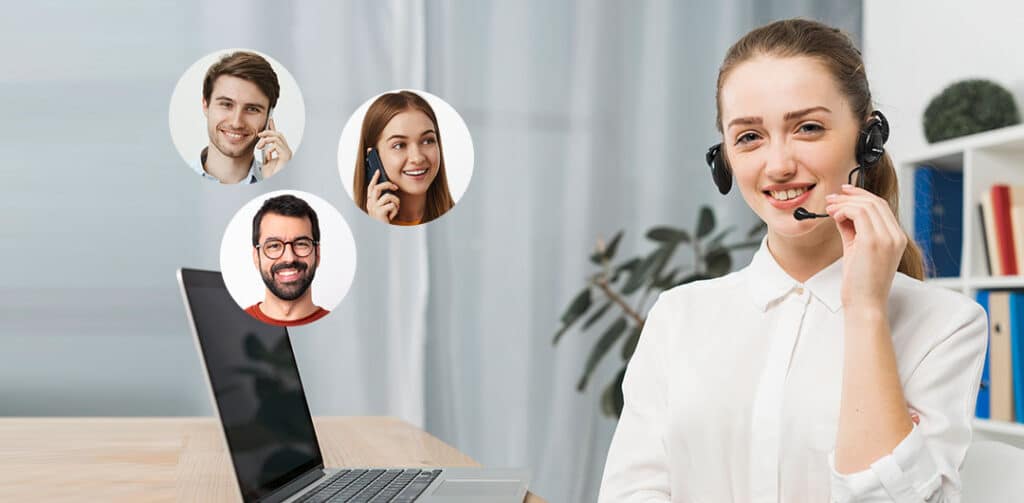 In telemarketing, the B2C (business-to-consumer) approach takes a slightly different path than its B2B counterpart. Here, the primary focus is direct outreach to individual consumers intending to sell products or services. Unlike B2B telemarketing, which emphasizes building relationships between enterprises, B2C telemarketing places a premium on cultivating trust and rapport with individual customers—the success of B2C telemarketing hinges on understanding and addressing these consumers' unique needs and preferences.
Effective Strategies for B2C Impact
Know Your Audience
A deep understanding of your target audience lies at the core of successful B2C telemarketing. This understanding extends beyond surface-level demographics and delves into behavioral patterns, linguistic preferences, and individual interests. By comprehensively analyzing your audience, you can tailor your telemarketing approach to resonate with potential customers on a personal level. This personalized touch can significantly enhance the effectiveness of your interactions.
Requesting Time with Tact
Respect and courtesy are paramount in B2C telemarketing. Before launching into your pitch, it's crucial to request the customer's time with tact and consideration. This simple yet often overlooked gesture sets the tone for a respectful and engaged conversation. Acknowledging the customer's time and preferences creates a more receptive atmosphere for your message.
Diversifying Your Script
A monotonous and one-size-fits-all script can quickly disengage potential customers in the B2C telemarketing realm. To maintain relevance and capture interest, it's essential to diversify your approach. Prepare telemarketing call scripts that cater to different scenarios, whether presenting options, following up on previous interactions, or closing deals. This adaptability ensures that your telemarketing efforts remain relevant and engaging, regardless of the specific situation.
Unveiling Success in Telemarketing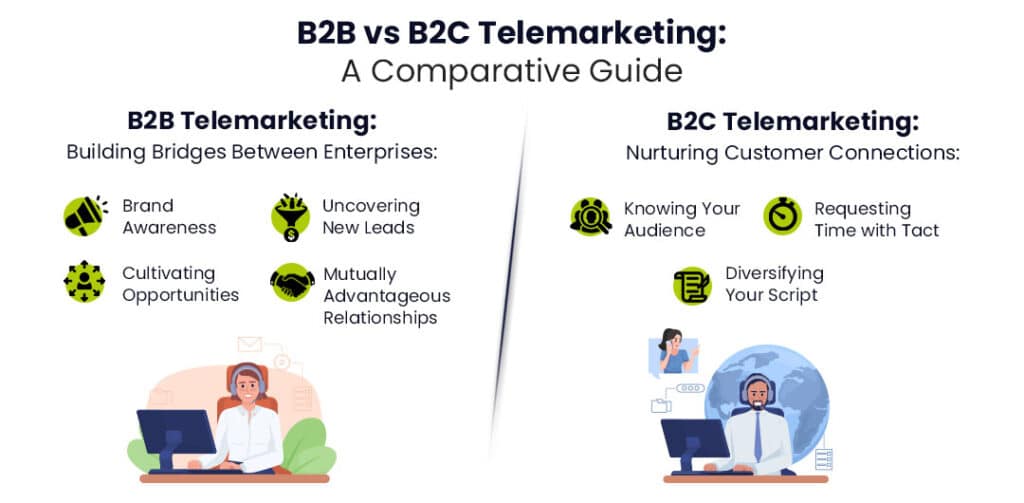 In both B2B and B2C telemarketing, the road to enhancing sales is clear, but success ultimately hinges on the proficiency of the salesperson. Even with a wealth of business and marketing experience, having a reliable partner or team to facilitate direct outreach to customers or clients can significantly elevate outcomes. The strategies outlined above serve as the foundation, but the skill, finesse, and adaptability of the telemarketer truly unlock the potential for success in telemarketing campaigns.
The Final Word
The realm of telemarketing transcends mere communication—it's about forging connections and driving sales. By understanding the nuances of B2B and B2C telemarketing and implementing strategic approaches, businesses can harness the power of the human voice to create enduring relationships and drive growth. 
In the days, there was a prevailing notion that B2B purchases were grounded in logic, with emotions taking a backseat, while B2C endeavors were all about forging emotional bonds to bolster brands and escalate sales. Yet, today's insights illuminate a profound shift: emotions also wield significant influence in B2B decision-making. 
Remember, behind every business stands a collective of individuals who weigh decisions based on rationality and emotions. A collaborative study by Google and the CEB revealed that B2B customers share stronger emotional ties with their vendors than B2C customers with their chosen brands. This emotional tether is a pivotal facet that B2B marketers must grasp, for it has the power to sway purchasing choices. By comprehending the dynamic requisites of their clients and curating messages that reverberate with these needs, B2B marketers can engineer connections that transcend mere transactions. Take, for instance, a software company that shifts its focus from technical specifications to spotlight the relief and ease its products bring to employees, effectively addressing stress and frustration. 
In today's arena of escalating competition, forging emotional bridges emerges as the linchpin in setting a business apart from rivals and cultivating enduring bonds with patrons. These connections transcend the transactional and foster relationships grounded in shared understanding and empathetic resonance. They serve as a beacon guiding customers toward not just a product or service but a brand that understands cares and stands out in a sea of options.
FAQs Unlocking Telemarketing Excellence: In-Depth FAQs for Success
Akshay Divate
More and more companies are utilizing account-based marketing in their business, and this trend isn't showing any signs of stopping. And it's no wonder. One of the great benefits of account-based marketing is that
Akshit J
B2B marketing is becoming complex with each passing day. Customers' expectations are rising. Competitors are increasing. Profit margins are shrinking. Newer challenges are coming. Moreover, the global economy is plummeting. In such challenging times,