Nearly, two decades ago marketers implemented superfluous strategies to gather as many leads as they could. A potential client or not, the goal was – the more traffic for the website the better. The mantra was to receive enough leads by implying lead generation strategies so that they could acquire the ones that are pertinent to their business. Although, as the competition turned rife, this long-drawn process was fashioned into a more laser-based approach – ABM (Account-Based Marketing).
So, what exactly is  Account-Based Marketing (ABM)?
In this form of marketing, a highly customized and drip campaign route is carried out to reach relevant accounts. Instead of wasting time on blanket campaigns that are designed to interest the entire market, the Account Based Marketing services chooses specific accounts as markets. For instance, scouring through hundreds of mediocre leads to gain five good accounts,  your Lead Generation sales and marketing team will start with targeted accounts immediately. This does three things for the organization – saves your time, effort, and money.
The Formula for an Effective Account-Based Marketing (ABM) model
Bringing valuable accounts takes a lot of time, work, and collaboration within a business.
Combining the efforts of these target accounts, the outcomes are tremendous. Account-Based Marketing more than being useful for landing new accounts, 84% of marketers assert that Account-Based Marketing provides great advantages for retaining and expanding current customer relationships
Identify Your Target Accounts
Based on the capacity of your marketing and sales division, you can assign the target companies. Your Account-Based sales teams should be able to suggest which leads hold the maximum likelihood for conversion based on their research. 
Parameters such as ICP (ideal customer profile), product fit, deal with the businesses in the past, deal size, and desired companies can be used to assign the sales representatives. After you have listed down the targeted companies, categorize and allow them to your sales representatives. They can be further segmented on the basis of products, demographics, geographics, revenue, sales stage, etc.
A team of Account-Based Marketing Experts
The success of an Account-Based Marketing model requires an impeccable team effort. These campaigns are multi-channel which mandates constant collaboration between, sales, content, SDRs, field marketing, operations, and of course the head of the Account-Based Marketing channel. Various departments might not be necessarily present in all companies, however, depending on the size of your company your Account-Based Marketing team should be streamlined to efficiently accomplish all that's on the plate..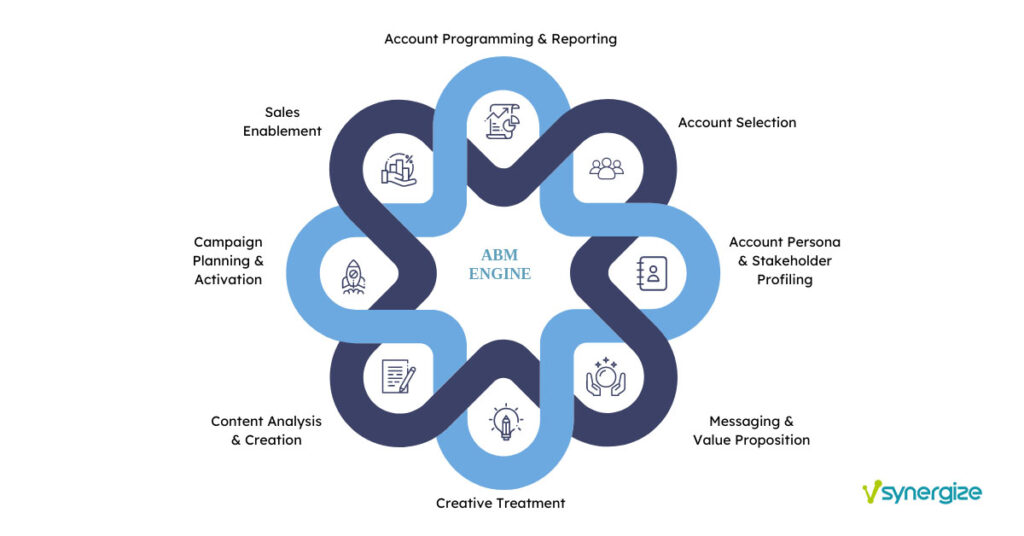 Requirements of an Account-Based Marketing (ABM) campaign
A valuable Account-Based Marketing campaign should be seamlessly designed, determined to provide a solution, and customizable for every account. Likewise, it should be fine-tuned to the buyer's sale's journey and must have some form of a call to action.
Channels
To reach and engage your target accounts, you have to decide what account-based platforms you'll be employing. These could include –
Paid Advertising

Paid Social

Webinars

Trade Shows

Campaign Mailers

Web Personalization

Direct Mails

Regional Events

Customized Content
To get a gist of what you will need, your business needs to do a complete content audit to ensure the individual target markets are supplied with accurate solutions. Running a content audit doesn't only mean that you focus on blogs or eBooks. Consider the content on landing pages, emails, and webinars, press releases, whitepapers, video content. 
Another thing you need to do is figure how the chosen content will be used, delivered, and personalized so that the buyer's purchase experience could be as smooth.
Make Communication A Priority
Once the account-based platforms are set, you will want to align with the various Account-Based Marketing teams to stay updated on campaign deliverables, performance, and expected results. We'd suggest that you create a communication strategy where all departments can schedule weekly standups, monthly updates, and quarterly campaign reviews. 
Moreover, activities across teams should be transparent. For example, the marketing team should be able to see the activities of the sales. Similarly, the sales division should be able to see marketing undertakings for creating a more holistic Account-Based Marketing campaign. Also, it is imperative that whatever the activities are, each team agrees on it to ensure that the whole campaign is promoted to deliver the same value.
Know Your SLAs (service-level agreement)
It is important that you establish clear SLAs between the marketing and the sales division to avoid any form of discrepancies. For instance, agree on which KPIs both teams are working on as well as keeping track of them and getting timely reports. Likewise, what message each team is conveying and what kind of activities should be coupled with each team. To make sure that all the teams are on the same page, an automated reporting and notification system should be set up. 
Finally, track the progress of your Account-Based Marketing campaign. There are several tools out there that can help you do so. In short, measuring your efforts is basically climbing up the stairs to improve your flaws to get into the potential business opportunity. 
To become competent in employing Account-Based Marketing (ABM) solutions, get a free demo now! Reach us directly at info@vsynergize.com  or  call us on +1-732-481-9424
Akshay Divate
More and more companies are utilizing account-based marketing in their business, and this trend isn't showing any signs of stopping. And it's no wonder. One of the great benefits of account-based marketing is that
Akshit J
B2B marketing is becoming complex with each passing day. Customers' expectations are rising. Competitors are increasing. Profit margins are shrinking. Newer challenges are coming. Moreover, the global economy is plummeting. In such challenging times,