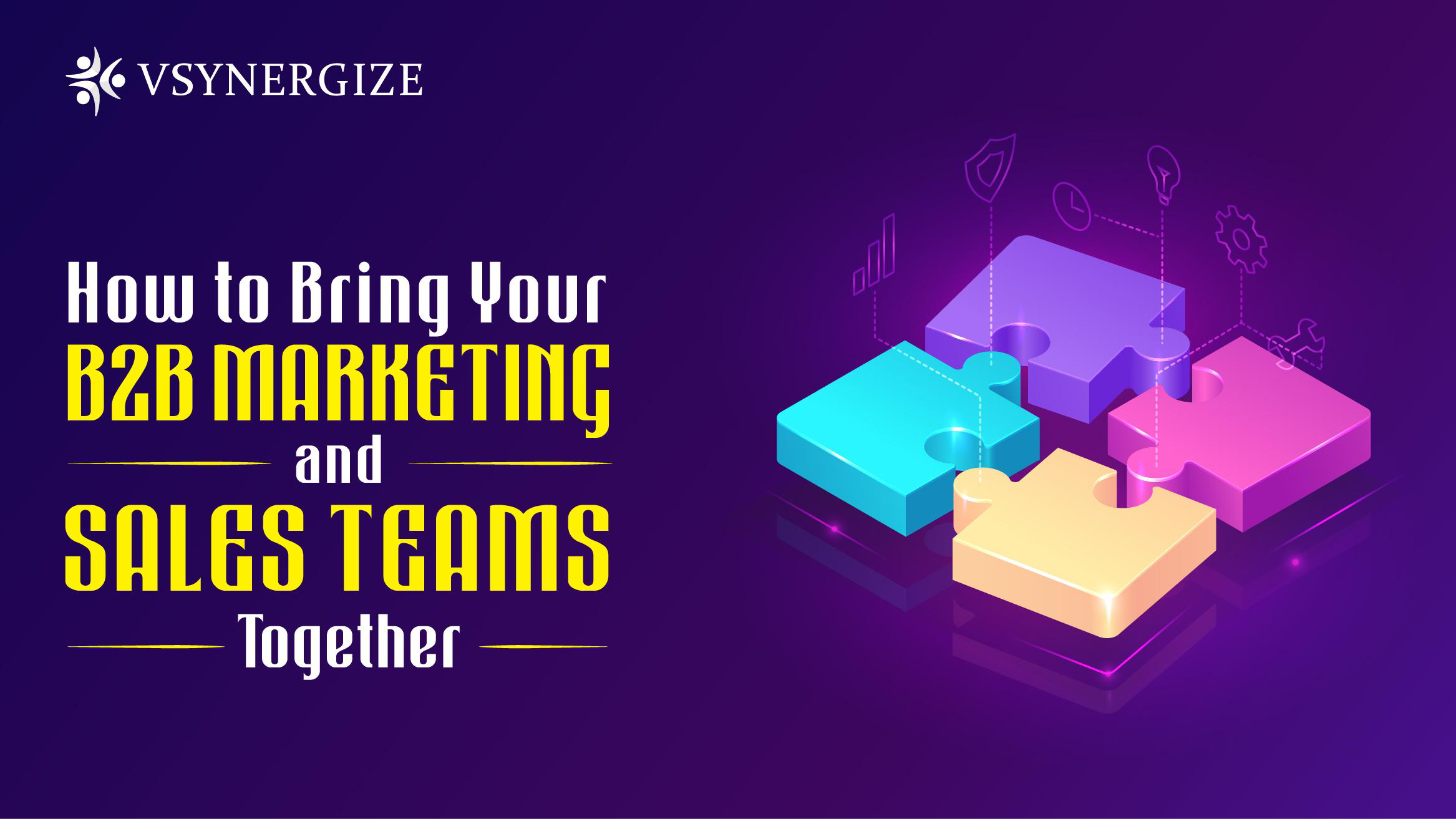 How to Bring Your B2B Marketing and Sales Teams Together
Sales and Marketing are often seen as two separate departments within a company; also as their daily operations are focused on different aspects of customer relationships, they should function together as a single unit.  Although Marketing and Sales teams focus on different aspects of the customer relationship, they should still work together. Their relationship is usually interconnected, and recognizing where each team specializes and how they can come together to generate growth.
What is the difference between Sales and Marketing?
Marketing endorses leads and builds relationships with potential customers within multiple strategies. Some of these strategies involve marketing through flyers, emails, newsletters, trade shows, referrals networks, and Digital Marketing, etc. After Marketing pulls in the leads, it is up to the Sales department to close them.
The Sales team develops a one on one relationship with the prospect, and they work hard to ensure that the customer evolves from having an interest in their company to signing a contract and paying for a service. The Salesperson addresses the specific needs of the prospect and provides a solution tailored to their requirements. Through additional methods such as cold calling, salespeople are able to turn a lead into a profit. Companies should have experienced reps to ensure the success of their business.
The direct and simplest answer of aligning Marketing and Sales team is that they both together bring revenues. The success of any business is traditionally measured by a set of metrics, and if the Sales and Marketing teams work together their key business metrics improve. Sales cycles become shorter, market-entry costs go down, and the cost of sales decreases.
According to a LinkedIn report, 58% of Sales and Marketing professionals collaborating together has improved customer retention and also have noted it as a positive contribution to financial performance. Also, the collaboration of both the teams has improved efficiency and 52% of them have enjoyed enhanced productivity.
Here are some of the easy & essential steps you can take to increase your sales performance, reduce your cost of selling, and ensure your survival.
1. Clarify your mission.
2. Break the mission into specific goals.
3. Sell to customer needs.
4. Create and maintain favorable attention.
5. Sell on purpose.
6. Ask, listen, and act.
7. Work on the basics.
8. Develop your attitude.
9. Create an ideal schedule & Maximize your time
The Reasons for poor alignment between Sales and Marketing is:
1. Lack of Communication
2. Lack of Accurate Data
3. Lack of Accountability
Why Sales and Marketing need to work together
The relationship between Sales and Marketing has changed drastically in recent years, and it is crucial that these two groups collaborate effectively. Marketing is holding onto leads much longer than ever before, and they are focused on developing and nurturing relationships with leads before handing them off to Sales.
The benefits of collaborating Sales & Marketing
1. Better customer retention rate
2. Higher Sales win rate
3. Easier deal closing
4. Shorter buying cycle
5. Less wasted leads
The Sales and Marketing teams set individual sales rep quotas, as well as the overall mass goal for the company. To attain Sales goals, it forms a bonus and directs structure. Even to maintain Customer base, Sales and Marketing teams take responsibility for making sure buyers are happy, as well as trying to upsell them. The teams are proactive in reaching customers with surveys and exclusive offers and are reactive to strive and solve any problems.
The alignment between Sales and Marketing can retrieve
From Marketing:
1. Better Quality Leads
2.Competitive Information/ Intelligence
3. Brand Awareness
4. Desirable Leads
From Sales:
1. Better Lead Follow-up
2. Steady Feedback
3. Prospect Reach
By holding onto leads longer, Marketing is making it easier for the Sales team to connect with the customer. Reducing the number of cold leads and increasing the number of warm leads makes the process of closing deals faster for the Sales team. Also, having an effective Sales team that can close the deals effectively generates revenue and ensures that the Marketing team's efforts are not wasted. It is significant that your Sales and Marketing teams value one another, and understand the potential they have when working together. It is all about balance, and uniting the different talents of Sales and Marketing creates an effective partnership for stirring up the growth.
Here are some strategies to make better communication bond between the B2B Marketing and Sales teams:
1. Set Cohesive Goals
2. Clearly Define Your Sales Funnel Stages
3. Develop a Service-Level Agreement
It is not only the business of Marketers to pull in the desired prospects, but also the job of Sales reps to help marketers understand their customer baseline and understand which leads have successfully converted into clients in past meetings.
Does your company inspire Sales and Marketing reps to work as a team? Do you find this relationship effective? VSynergize has been a pioneer and worked with multiple fortune 500 companies to align their Marketing and Sales teams, thereby increasing their output by 10-20% Feel free to have a discussion with us on 855-203-8196 or email at info@vsynergize.com