Lead generation survey is an invaluable tool for Business-to-Business (B2B) companies. This kind of survey helps you gain insights into what your prospective customers need so that you can align your offerings to better serve their needs.
As a B2B business, you could be having any of the following kinds of offerings – products, services, or information exchange between other businesses. Whatever the nature of your offering may be, lead generation surveys always work in their intended use.
Although survey research is commonly used by B2C businesses to better understand their target market or specific market segments, as well as to test their own customer experience, B2B businesses like yours can benefit greatly from them.
Surveys are used primarily to fuel B2B market research, but they are also a primary source of sales lead generation surveys.
Let's uncover the power of Lead generation surveys for your business.
Also Read: VInsight – Precise Targeting for Next-Gen Marketers with Surveys
What is Lead Generation?
"Lead generation" is the means of catching the interest of your target audience so that you can nurture them until they are ready to buy from you.
Generating leads is considered by many marketers to be their biggest challenge. With that in mind, it is important to care for your target audience by providing content and information that will help their business.
Lead generation allows you to go after your target market who are searching for a product or a service like yours. There are a variety of ways in which you can generate leads. One is by using surveys.
B2B lead generation questions are questionnaires designed for business professionals to complete for a B2B company to better understand its target market, specifically its partners, business clients, and prospects. In terms of lead generation, B2B surveys allow for the nurturing of leads, bringing them closer to conversion.
Why Lead Generation Surveys Are a Powerful Force in the Sales Funnel
B2B lead generation surveys are critical components of the sales funnel because they nurture leads. Think of a lead generation survey to serve the following purposes in one shot:
Understand your target market
Segment your market basis their responses
Develop offerings as per the market requirements
Prepare for any objections that may arise while closing
And, generate leads to fill your lead pipeline (obviously)
These surveys are typically administered in the mid to late stages of the sales funnel when prospects are familiar with a company and show some level of interest.
Additionally, similar surveys can be sent to post-sales customers, such as partners, members, and business customers. Post-sales surveys encourage partner and customer retention while surveys to those in the middle stages of the sales funnel drive the motive to survey leads.
This is because these surveys are used to question business professionals about how to better serve them such as finding effective assets, experiences, and communications and learning how to enhance current lead generation efforts.
Things you can accomplish using lead generation surveys
There are several ways to generate leads and move prospects further down the sales funnel, or to keep your current business clients and partners satisfied with your relationship.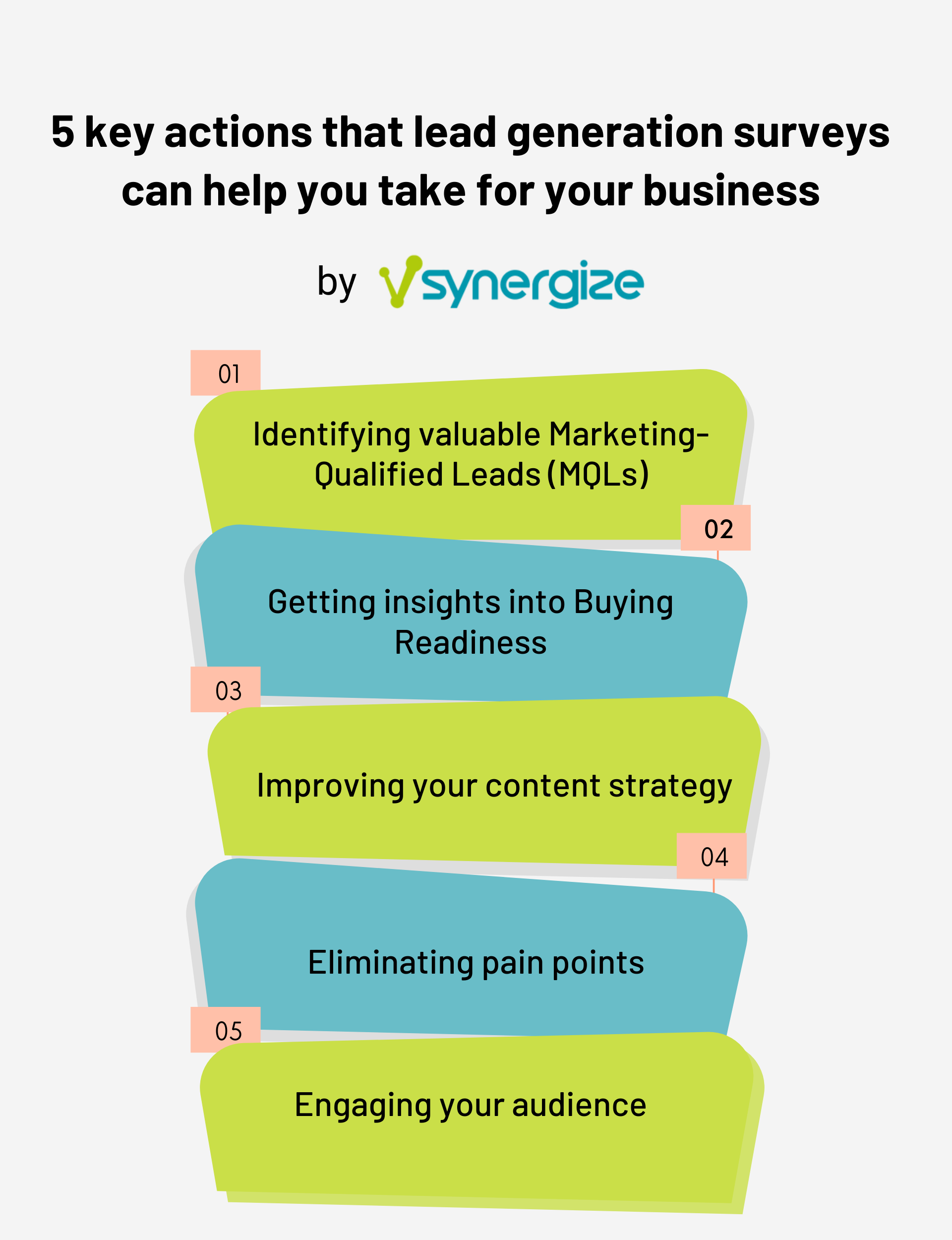 The following are key actions that lead generation surveys can help you take to scale your business, whether it's strengthening existing business relationships or developing new ones.
1.    Identifying valuable Marketing-Qualified Leads (MQLs)
B2B surveys provide key identifiers such as company names, positions, full names, emails, and phone numbers. Based on company size, funding stage, and respondent role, these identifiers can help you determine which respondents are MQLs. This also allows you to find the most appropriate content marketing asset to direct them to.
Ask simple questions by surveying leads. You can ask questions in lead generation survey examples like "What is your designation?" and "Are you responsible for take decisions when it comes to the marketing tools that your company purchases?".
2.    Insights into Buying Readiness
These lead generation surveys show you who is ready to buy and who is thinking about a long-term business relationship. Contracts, for example, are frequently used by software-as-a-service (SaaS) companies to acquire new customers. A B2B survey enables you to directly ask about an MQL's buying readiness.
3.    Improving your content strategy
B2B surveyed leads provide insights into your leads' content needs and preferences for leads that require more nurturing. Some surveyed leads prefer short-term forms such as infographics while others are not concerned about the type of content provided if it shows your product in action.
A B2B survey can reveal if your nurturing program requires more relevant content, as well as elicit trends in your industry by asking questions about them.
4.    Eliminating pain points
Lead generation surveys identify the pain points of your leads. These can be found in your products or services, in which these surveys provide information about their user experience. These insights can be used to improve retention and ensure the customer will stay with you.
In any case, knowing about these pain points is an important step toward eliminating them, so that your survey leads believe you are listening to their concerns and offering solutions. One way to help them solve their pain points is by sending them relevant content.
For example, one question that you can ask in the lead generation survey is "What help do you feel you require to create better email campaigns?".
5.    Engage your audience
Keep your surveyed leads engaged with your brand. B2B lead generation questions could be "What kind of content do you want to see from us?" or "What type of content are you interested to see?".
At times, asking directly is the best strategy.
Simple advice to increase the responses to your lead generation surveys
Some methods that will help you increase the conversions of your lead generation surveys include keeping your surveys short and relevant, using conditional branching like sending some questions which are specifically for your audience, offering incentives, using omnichannel surveys, and making your audience feel important.
Final thoughts
Lead generation surveys are powerful marketing tools that will help you engage with prospects and make them your loyal customers. These surveys are critical for your business to scale and in today's competitive landscape, survive. To retain your customers, it is important to understand your customers by obtaining new leads and nurturing them down the funnel. At the same time, don't forget to give them the best customer experience.
Akshay Divate
More and more companies are utilizing account-based marketing in their business, and this trend isn't showing any signs of stopping. And it's no wonder. One of the great benefits of account-based marketing is that
Akshit J
B2B marketing is becoming complex with each passing day. Customers' expectations are rising. Competitors are increasing. Profit margins are shrinking. Newer challenges are coming. Moreover, the global economy is plummeting. In such challenging times,