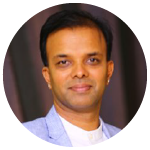 An MBA from Boston, Dheerajj's sharp business acumen and his honest efforts have propelled VSynergize to its present glory. From an idea and a zest to do something in life, it is Dheerajj's cognition, dedication, experience and energy that has enabled VSynergize to achieve radical growth in every aspect of business process outsourcing and become an International BPO service provider!
The core challenge for most small to medium size companies is increasing costs, lack of innovation as well as hiring and training. It was the realization of this problem that motivated Raj to help companies improve processes fostering growth. He quotes saying: "I consider myself a change agent. Change Agents define, research, plan, build support, and partner with others to create change. The organizational changes that I help to facilitate result in increases in efficiency while simultaneously decreasing costs."
Dheerajj has worked at the US-India Business Council (Washington D.C.), where he promoted International trade between the US and India. His vast experience is also spread across the Real Estate and Hospitality industry in India, in addition to which he has extensive experience in the Finance and Investment banking industry. A multi-faceted visionary, Dheerajj has achieved many a milestones that speaks volumes about his qualities as a leader.
An optimistic and bold leader, Vishakha is the Founding Director and Chief Marketing Officer of VSynergize Pvt. Ltd. Being a lively and creative light of the company, it is her passion and life's mission to help companies by improving business processes that can translate into a HUGE saving by reducing business costs by 50%!
Vishakha drives breakthrough marketing that has grown the company profile, profits and team pride a multifold. A strategic marketer with an IT DNA, she has a 20-year track record as a B2B growth instigator, achieved by uniting Marketing Strategies with Demand Generation. A builder of high-performance teams, she believes the CMO must set a clear vision for business performance and that execution is the ultimate differentiator.
Vishakha is a dynamic professional and has worked with some of the biggest names in the US telecom sector. Be it Conversent Communications or MCI World Communications, her sharp business acumen stems from all the rich work expertise she has gained. She has also worked for a US-based IT firm- Sai Information Systems, where she helped the organization grow leaps and bounds.
Her innovative and creative business execution has made her a highly influential CMO and Speaker at Panels and Roundtables, including being recognized as Best Businesswoman for the Year 2019.