Customer Data has astonishingly become a business asset, with great opportunities for Marketing and Sales teams to form seamless B2B customer experiences. In this intent, data can be useful, while relatively new and often complex, while it brings unbelievable value when it comes to demand generation and nurturing leads through the funnel.
Giving you the power to identify when a prospect is actively considering or ready to purchase products and solutions, can transform the future of B2B marketing. The entire world consists of an infinite amount of data to sift through, it's important to have a strategy in place. Check out the step-by-step guide to implying B2B intent data in your business and making it work for your business.
Define your goals and objectives

Decide where to source your intent data

Make the data actionable

Perfect your communication process

Keep eye on your KPI's
Also, a lot of B2B marketers are only struggling with predictive-driven sales and marketing. If you want to take your demand gen and lead gen efforts to the next level with intent signals, it's vital to use data in the right way. Some common mistakes to avoid for experiencing campaign success.
Check out 5 Intent Data Mistakes Holding B2B Marketers Back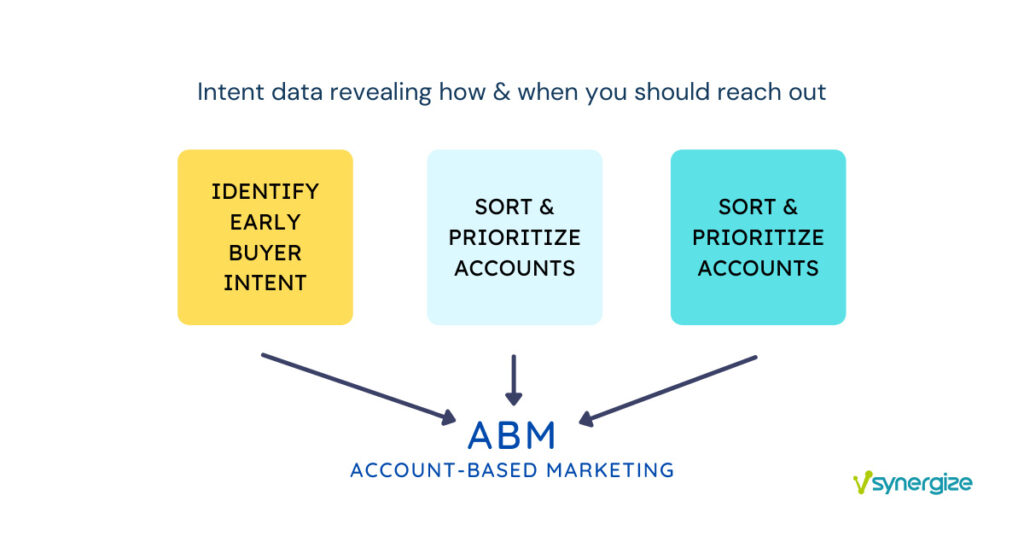 Not sharing insights with your company

Misunderstanding the value of third-party Intent Data

Gathering insights, but not actioning on them

Not putting enough budget into gathering and using intent data

Relying only on Intent Data at the bottom of the funnel
Remember don't just focus on the leads at the bottom either. Consumers willingly will dip in and out of the funnel, so forming a connection with demand generation or lead nurture campaigns is the priority of every marketer. And by tapping into multiple channels and taking a bird's eye view of the funnel, you can begin to better understand buyer intent.
When buyers face any issue, they do online research to find the exact solution to their problem. They research a lot before you connect with them. Now imagine if you knew your prospects were researching a solution like yours shortly after they started the process.
Sales and marketing teams using all of these strong signals can then prioritize their accounts the relevant accounts that show intent. When implemented accurately, B2B intent data can boost conversions and sales.
With Intent, sales and marketing teams find accounts that research topics relevant to their business through the online consumption of: 
Product reviews

Infographics and blogs

Product comparisons

Message boards like Quora.com

Case studies

General Articles/News
Organizations that can collect and use online intent data can reach buyers much earlier in the process, guiding the decision-making process before a competitor even knows about their prospect's interest.
Content utilization is a strong approach to buyer intent. You can also buy intent data from third-party vendors.
Sales and marketing teams can rely on intent data to ensure effective go-to-market strategies, accurate segmentation, and personalized outreach to the right people.
B2B Intent Data benefits in reaching your leads earlier in the buyer journey. Also by creating better brand awareness early on, you can gain a competitive edge over other similar providers.
Companies that don't use predictive intelligence data are limiting their response to data from their website, while their potential buyer has likely been trying to solve a pain point for weeks.
Methods Sales & Marketing teams can use Intent Data to:
Identify interested buyers

Build target account lists

Personalization

Lead Scoring & prioritizing accounts

Analyze and try retaining customers
Try increasing the demand of your brand for which customers are researching and looking out for. The above methods make it possible for you to up-sell proactively and recognize your buyer's pain points.
When selecting  an B2B Intent Data provider, here are a few important questions to ask:
Is the data planned according to your leads, accounts, or both?

How comprehensive is the scope and how particular are the details?

Can the provider deliver context? 

Does this data integration into your existing marketing system, CRM, and scoring model?

How frequently do you get your intent updates? 

Do you use personalization?
VSynergize saves you time by suggesting contacts to reach out to based on your ideal customer profile. Intent data in real-time, not in batches. Connect us via email at  info@vsynergize.com or call us on +1-732-481-9424
Akshay Divate
More and more companies are utilizing account-based marketing in their business, and this trend isn't showing any signs of stopping. And it's no wonder. One of the great benefits of account-based marketing is that
Akshit J
B2B marketing is becoming complex with each passing day. Customers' expectations are rising. Competitors are increasing. Profit margins are shrinking. Newer challenges are coming. Moreover, the global economy is plummeting. In such challenging times,