What is Demand Generation?
B2B Demand Generation is a marketing strategy that involves driving the interest of people in your product or services. Basically, it is the process of generating demand and buzz for your business. Demand generation tactics help to build brand awareness, increase traffic and secure more deals.
In simple words, we can say that it is an indirect way to ensure a smooth flow of leads to your sales pipeline. There are many effective B2B Demand Generation strategies that you can utilize in your business. Keep reading the blog to know more in-depth information about Demand Generation and strategies.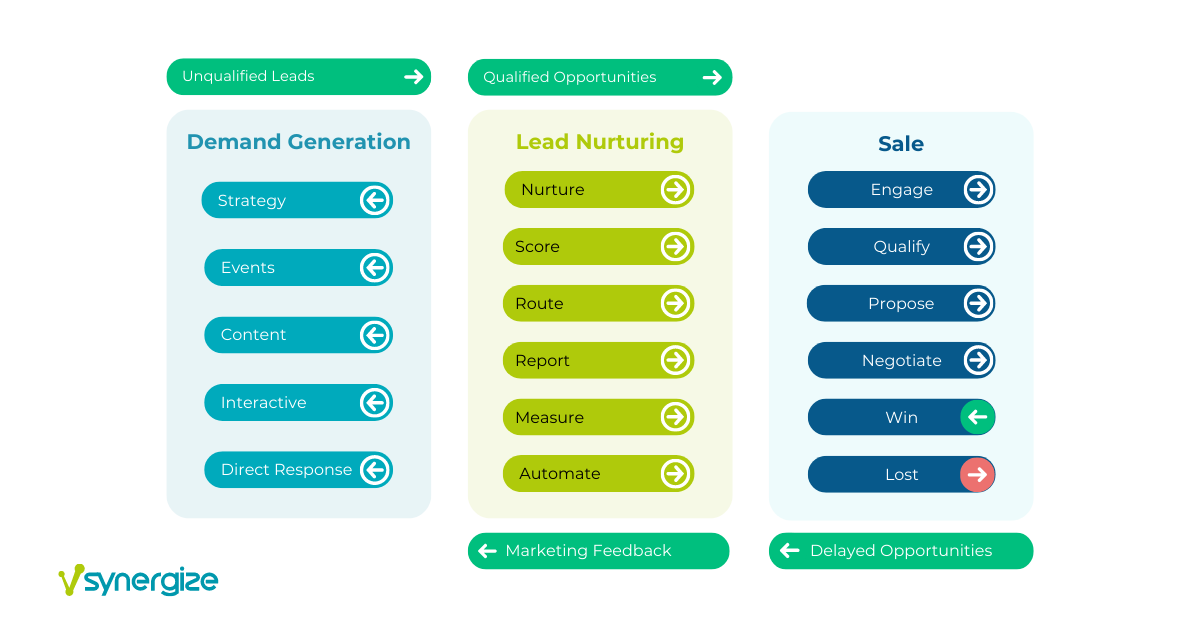 Key Points About B2B Demand Generation
B2B Demand Generation is called the marketing powerhouse as it helps to build brand awareness, increase traffic and close more deals.
Demand Generation Marketing is all about creating a healthy pipeline by ensuring the flow of leads and sales conversion.
It is a method to expand your audience reach, generate buzz and push customers to take action to close deals.
Generating demand includes creating campaigns to capture the attention of people, engaging prospects, and keeping your brand highlighted in their minds.
The goal of Demand Generation tactics is to push the buyers ahead in their buying journey.
It is all about putting up the best sales pitch and turning a qualified lead into a new customer.
B2B Demand Generation campaigns feed into lead generation. It involves creating compelling, informative content which grasps the attention of potential buyers.
Importance of Demand Generation
Now, you know what Demand Generation is all about. At this point, one question might be arising in your mind i.e. Why is it so important to Marketers today? Well, we will explain that in this section.
B2B Demand Generation programs are the awareness machine of the enterprises. They don't just bring traffic to your website but try to make your brand stand out among others. For people to give your brand priority you need to show them how unique and best you are among all the solutions present in the market.
To shine out, your brand needs to constantly show up at different places such as industry conferences, social media platforms, events, etc. Being in the eyes of people all the time aids in building recognition and trust over time. Thus, the demand generation strategy is important to turn your potential prospects into customers.
As you know, Demand gen has a broader focus than lead generation. The B2B Demand generation campaigns aim to bring in more leads for the business. It can foster great results for prolonged periods of time if done properly. You can also engage any of the best B2B demand generation companies if you want instant results.
The demand generation strategy helps to fill up the top of the sales funnel with a gush of leads. Sometimes few of these leads are immediately turned into high-quality leads. However, nurturing those leads and converting them into new customers is a lengthy process.
More Leads = More Sales = More Revenue 
B2B Demand Generation campaign is both a long and short-term strategy. So, you can expect both long and short-term results. Some potential buyers might immediately become your customers depending on how you nurture them once they enter your sales funnel.
Some of the Best Demand Generation Strategies
Above we told you about the importance of the demand generation strategy and why B2B Marketers need it. Next, we will discuss the best demand generation strategies that you can inculcate in your business tactics.
1. Blogging
The easiest and simplest way to capture the attention of people is to post impressive, informative, and educative content on your website. It can help you to bring organic traffic to your web pages. Providing valuable and relevant content to your target audience is a good way to stick them around for a longer time. You must focus on the customer's pain points and show your service as a solution to their problem.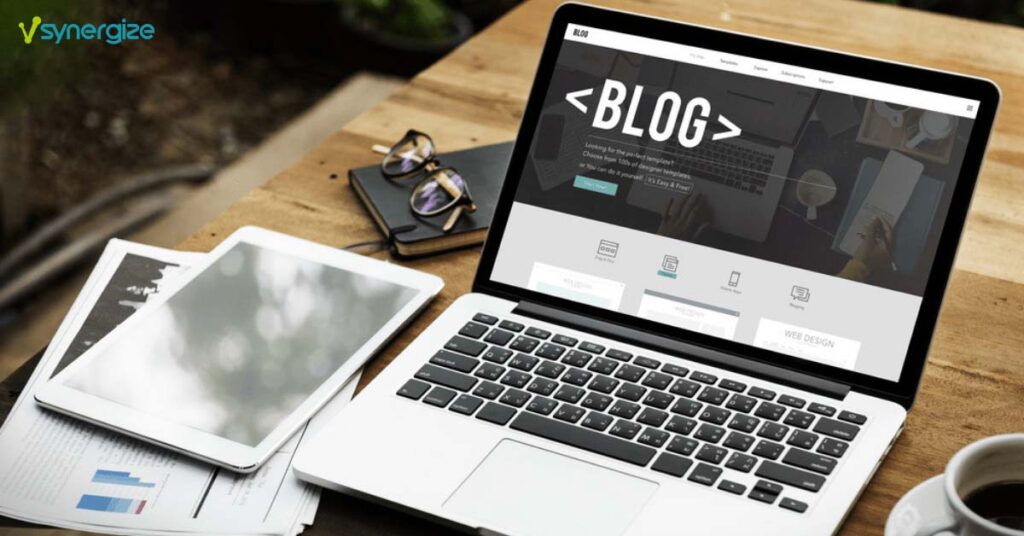 Blogging is the most effective and popular form of content marketing. It increases the visibility of your website as many people might come searching for information on your website. In exchange for providing information, you can gather contact details from them.
2. Conducting Live Events

Whenever you are reaching out to your target audience make sure you are focused more on the prospect's problem than your service. When you keep nagging about your business it irritates the audience. You can also conduct industry events or even sponsor them to create instant buzz and get the attention of people.
You can do press conferences and product launch events. This will make your brand stand out and get more attention. You can also give discount offers and free giveaways in events to attract new customers.
3. Account-Based Marketing 
ABM campaigns focus on the accounts that are more likely to close deals. It is a way to coordinate your marketing efforts through various channels on the right accounts. The ABM approach is more sophisticated and specific.
In this, you first need to identify your Ideal Customer Profile and Buyer's persona. Once that is done you need to filter out the right target accounts. Then, you can shoot your emails, ads, and personalized content to those chosen accounts.
4. Webinars or Online Workshops
These pandemic times have made the digital world the hero. As we know earlier things were not so solid on the web platform. But since the need to maintain social distancing came it has taken over all the business processes. At the present time, the meetings and conferences are held online.
You can use the digital platform to your advantage and organize webinars or online workshops. This can help people to know more about your business and what you do. Along with that, you can interact with your potential customers and answer their questions or doubts. This will not only help to build the trust of people but also attract new customers.
5. Videos
Nowadays, people don't have much time and they want quick solutions. In research, it has been found that people are more likely to watch visual content than read texts.
Videos are not only entertaining and informative but they help people remember more information. You can engage more prospects by producing good-quality video content.
Also, it has been found that visual content has a higher engagement rate than text. So, you must craft nice informative videos and publish them on your website. You can also engage a B2B demand generation agency to help you with your demand gen tactics.
6. Sending Emails
First, identify your target market and get their specific information either through signups or data analysis. Afterward, you can tailor your content and offer relevant and customized for your audience.
Email Marketing strategies are successful and a great way to generate demand. This way you can introduce and let people know more about your business and services. Direct emails are one of the most effective marketing tools that you can use for Demand Generation.
7. Social Media Campaigns
With digitalization, people have turned their heads to social media platforms. You can create a social media profile of your business and post interesting and informative content over there. Search about the hot and trendy topics and create content images, videos, and infographics according to that.
You can know about the pain points of your customers and highlight your services as all one solution. Social media can really up to your game when it comes to creating brand awareness. Try to make and launch social media campaigns that are consistent and scalable.
8. Search Engine Optimization
The best way to drive organic traffic is to optimize the content that you are posting. Performing keyword research and knowing what keywords people are searching for is vital. This way you can create content in which people are interested and get maximum engagement.
Also, make sure that the content you are posting has relevant links added to it. Try to provide the best and most smooth experience to the visitors to your site. As your website acts as the first impression of your company. So, make sure that your URLs and web pages work properly and don't take too much time to load.
Winding Up 
B2B Demand Generation is a method of creating awareness about your brand so as to drive in more leads and increase revenue. The main aim of Demand gen is to expand your audience reach and generate buzz and interest of people in your services. An important fact to understand is that Demand Generation and lead generation are two different things. There are many Demand Generation strategies that you can utilize to make your business stand out. Go through the above blog to know more about Demand Generation and the best strategies that you can use.
If you are looking to generate more high-quality leads and improve your marketing and sales funnel conversion. Then, you can reach us now at +1-732-481-9424 or email us at info@vsynergize.com.  Our demand generation experts bring some of the most innovative and ROI-driven demand generation techniques to help strengthen your lead pipeline for the short and long term.
Akshay Divate
More and more companies are utilizing account-based marketing in their business, and this trend isn't showing any signs of stopping. And it's no wonder. One of the great benefits of account-based marketing is that
Akshit J
B2B marketing is becoming complex with each passing day. Customers' expectations are rising. Competitors are increasing. Profit margins are shrinking. Newer challenges are coming. Moreover, the global economy is plummeting. In such challenging times,