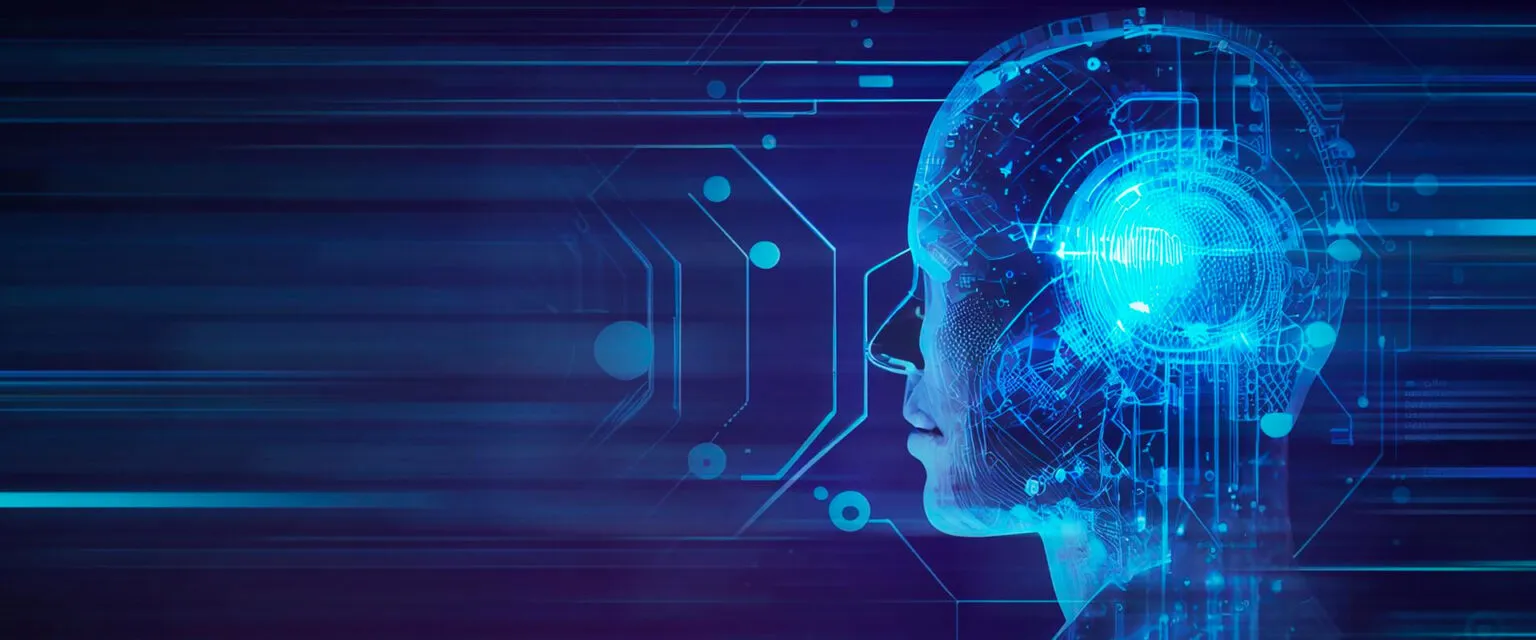 How Contact Centers Can Use Generative AI to Improve Customer Service
Generative AI, a rapidly evolving field in artificial intelligence, poised to bring about a profound transformation in the contact center industry. These advanced AI models can be trained to produce text, translate language, craft diverse forms of creative content, and provide insightful responses to your inquiries.
Generative AI opens doors to a fresh era in contact centers, fundamentally transforming how companies interact with their clientele. In this blog, we'll dive into the exciting world of Generative AI, exploring its capabilities, applications, and how it differs from conversational AI.
Generative AI 101
Before we dive deeper, let's get acquainted with Generative AI. At its core, Generative AI is a technology that can generate human-like text, responses, and even media content. It's not just about automation; it's about creating dynamic, context-aware customer interactions.
Generative AI Vs. Conversational AI
A common question we often encounter is, "How does Generative AI differ from Conversational AI?"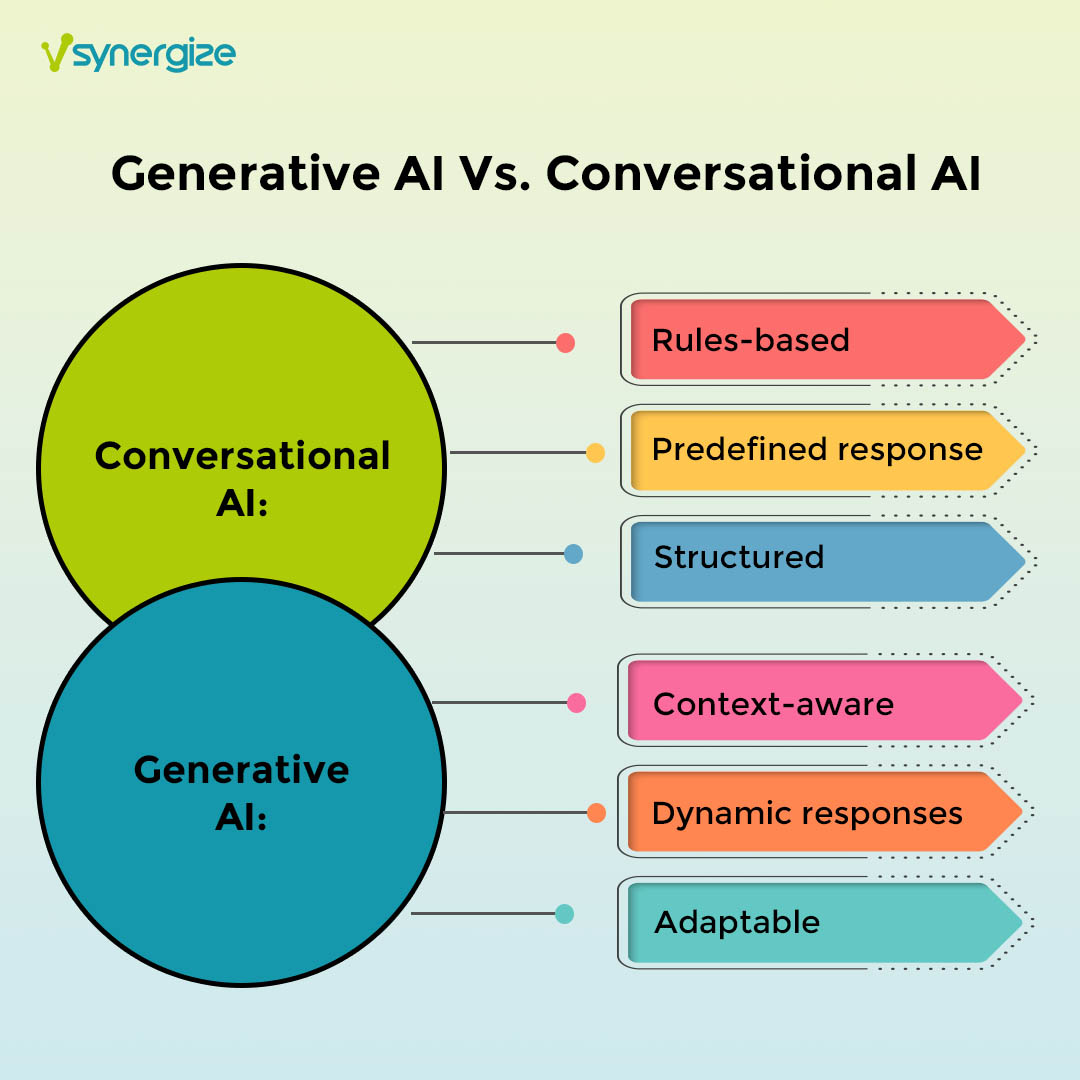 Conversational AI primarily focuses on predefined, rule-based interactions. On the other hand, Generative AI can generate responses on the fly, making it more adaptable to customer queries and context.
The key difference between Generative AI and Conversational AI is similar to following a script versus having a genuine, context-aware conversation. While Conversational AI is excellent for handling structured and repetitive tasks, Generative AI excels in scenarios where the conversation can take unpredictable turns and where natural, free-flowing interactions are essential.
Generative AI In Contact Center
Contact Centers are constantly striving to meet the ever-growing demands of their customers. The challenge lies in providing exceptional customer service while managing increasing customer interactions. To tackle this challenging task, future-focused organizations are embracing cutting-edge technologies, and at the forefront of this revolution is Generative Artificial Intelligence (AI).
Generative AI Contact Centre systems are paving the way for a customer service transformation, offering automation to streamline repetitive tasks, enhancing overall efficiency, and elevating the personalization of customer interactions. Here's how:
Elevating Customer Service
Generative AI can provide instant, accurate responses, improving the speed and efficiency of customer support. It can handle routine inquiries, leaving human agents to tackle more complex issues.
By analyzing customer data, Generative AI can offer personalized recommendations and responses. Imagine a chatbot that suggests products based on a customer's purchase history or provides support in their preferred language.
Generative AI takes automation to the next level. It's not just about predefined workflows; it can adapt to real-time customer needs, providing a seamless experience.
Generative AI generates valuable data that can be used to identify areas for enhancement, develop new products, and make informed business decisions.
There are no language barriers here. Generative AI can offer real-time language translation, expanding the reach of your contact center to a global audience.
Improving knowledge management
Generative AI streamlines knowledge management by auto-generating articles from customer data. Agents can access answers faster and with precision.
Generative AI Use Cases In The Contact Center
Here are some practical use cases for Generative AI in contact centers:
Virtual Agents or Chatbots:
Use generative AI to create intelligent virtual agents or chatbots to handle routine customer inquiries, such as account balance checks, password resets, and FAQs.
These virtual agents can engage in natural language conversations and provide 24/7 support, reducing the workload on human agents.
Automated Email Responses:
Generative AI can draft personalized email responses to customer inquiries, ensuring timely and accurate replies.
It can analyze the content of incoming emails and generate contextually relevant responses.
Voice Assistants:
Implement voice-based generative AI assistants that can interact with customers over the phone.
These assistants can provide information, process transactions, and offer troubleshooting support through natural language understanding and generation.
Multi-Language Support:
Generative AI can assist in providing customer support in multiple languages, eliminating the need for language-specific agents.
Translate customer inquiries and generate responses in the customer's preferred language.
Quality Assurance and Compliance:
Use generative AI to monitor and transcribe customer-agent interactions to ensure compliance with regulations and adherence to quality standards.
Automate the identification of compliance violations and provide feedback to agents in real time.
Knowledge Base Creation and Maintenance:
Automate creating and maintaining knowledge bases by generating FAQs, troubleshooting guides, and instructional content based on customer inquiries and agent responses.
Sentiment Analysis:
Implement sentiment analysis powered by generative AI to gauge customer emotions during interactions.
Use this data to identify and address issues proactively and provide personalized support.
Call Summarization:
Automatically generate summaries of customer-agent phone calls, making it easier to review and extract insights from these interactions.
Appointment Scheduling:
Generative AI can assist in scheduling appointments or bookings, reducing the workload on human agents.
It can send reminders and confirmations to customers.
Script Generation for Agents:
Generate scripts or suggested responses for human agents to ensure consistent and accurate customer communication.
Assist agents in real time by offering recommendations during calls or chats.
Predictive Analytics:
Use generative AI to predict customer needs and behaviors based on historical data.
It can help in proactive outreach and personalized recommendations.
Voice Cloning for Consistency:
Ensure consistent branding and customer experience by using generative AI to clone a specific voice or persona for virtual agents across various communication channels.
Customized Marketing Messages:
Generate personalized marketing messages and offers for customers based on their past interactions and preferences.
Call Routing Optimization:
Use generative AI to analyze customer inquiries and route them to the most suitable agents or departments for faster issue resolution.
Training Simulations:
Create realistic training simulations for contact center agents using generative AI to mimic customer interactions and provide hands-on training.
Review of Generative AI Tools & Platforms For Contact Centers
Let's take a look at some Generative AI tools and platforms designed for contact centers:
Salesforce Einstein GPT
Salesforce Einstein GPT is a versatile generative AI platform that automates various contact center tasks. One of its standout features is its ability to generate responses to customer inquiries.
It accelerates response times and guarantees uniformity and precision in customer interactions. Furthermore, it can generate knowledge articles, supporting agents in swiftly resolving inquiries. The platform's ability to customize customer interactions adds an elevated level of refinement, establishing it as an invaluable resource for delivering top-tier customer service.
InMoment Smart Summary Generator
The InMoment Smart Summary Generator focuses on extracting valuable insights from customer feedback data. In today's data-driven world, understanding customer sentiments and preferences is paramount.
This generative AI tool excels at identifying trends and patterns within customer feedback, providing contact centers with actionable information to enhance customer service and make informed business decisions. It simplifies turning a deluge of feedback into actionable intelligence, ultimately improving customer satisfaction and loyalty.
Observe.AI Generative AI Solutions
Observe.AI offers a suite of generative AI solutions tailored for contact centers. These solutions address critical aspects of contact center operations, including note-taking, coaching, and agent performance. Auto Summary streamlines the note-taking process, ensuring that important details from customer interactions are captured accurately.
Knowledge AI aids agents by providing real-time guidance improving efficiency and effectiveness. Auto Coaching leverages generative AI to generate insights that help enhance agent performance through data-driven feedback.
Generative AI Capabilities
Improved customer satisfaction: Generative AI has the potential to enhance customer satisfaction through faster, highly efficient, and deeply personalized service delivery.
Reduced costs: Generative AI can help to reduce costs by automating tasks that human agents currently perform.
Increased agent productivity: Generative AI can help to increase agent productivity by freeing them up to focus on more complex issues.
Better insights into customer behavior: Generative AI can generate actionable insights from customer feedback and data. This information can be used to improve customer service and make better business decisions.
The Future of Customer Service
As Generative AI technology progresses further, we can anticipate an abundance of inventive applications and enhanced capabilities. The potential is boundless, and organizations that adopt this technology will find themselves in a prime position to provide outstanding customer service and secure a competitive advantage
Generative AI is not just another buzzword; it's a transformative force reshaping customer service in the contact center. The synergy of human agents and AI-powered Generative AI promises a future where customer interactions are more dynamic, personalized, and efficient than ever before.